Vikings plunder includes title
Posted on October 4, 2018 by Vauxhall Advance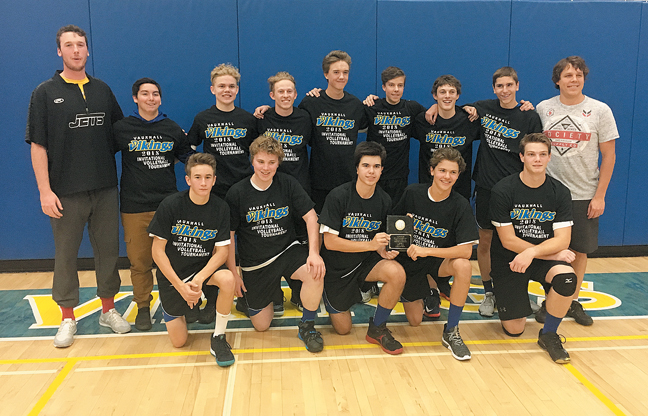 HOME COOKING: There was no place like home for the Vauxhall Vikings boys volleyball team, as it ended a long tournament title drought this past weekend with a thrilling three-set championship victory over Consort in Vauxhall on Saturday.
By Greg Price
Vauxhall Advance
gprice@tabertimes.com
The Vauxhall Vikings boys have got a monkey off their backs in a big way, emerging victorious in its home tournament this past weekend to take the championship title after a lengthy drought for the program.
Squaring off against Consort in the championship, head coach Jason Schellenberg highlighted the team's increased dedication to defence as a key to victory.
"They were last year's tournament winners so we knew they would be a tough team heading into this tournament," said Schellenberg. "It seemed like starting Saturday morning, something clicked defensively for our team. Guys were covering for each other, crashing on the floor. It was a next-level defensive effort that the guys hadn't done previously up to this point of the season. It made for some exciting volleyball with some really close games."
A round-robin format involving six teams, the compete level was pretty even throughout the whole field in which it was anyone's game according to Schellenberg. Vauxhall Vikings had played Consort earlier in the tournament and earned the split.
"We had some close games with every team in the tournament. It was any team's tournament to take. It was just a matter of who was playing well in the moment," said Schellenberg.
The Vauxhall Vikings happened to save their best moments in the championship final where it was not allowing the ball to hit the floor without a fight defensively in an eventual 22-25, 25-20, 15-8, three-set victory.
"It seemed like to this point in the season, and even earlier in the round-robin, a lot of guys would look at someone else to take charge on the court. They would be looking over their shoulder, hoping the next guy would take the ball or the next guy would step in to take the pass. When you are playing timid like that, you end up missing a lot of balls and balls that are hitting the floor that shouldn't be," said Schellenberg. "When we met Consort in the final, we saw that next-level intensity. Everybody wanted every ball. Guys were crashing the floor, when the ball was down low, we had three or four guys at one time, diving and hitting the floor. They were doing everything in their power to not allow the ball to hit the floor. There was a shift in the mindset of 'I hope someone else takes this ball, to no, I'm going to take this with an aggressive mentality'."
Schellenberg has seen plenty of growth in the Vikings since their first two tournaments of the season to its home tournament this past weekend — a trend he hopes to see continue.
"We've begun to minimize our errors. Typically in the past we have been categorized as being inconsistent in getting our hits and getting our points. It'd be hitting balls into the net or into the back wall," said Schellenberg. "This weekend the guys became a lot more consistent where you could count on them to put away a ball after their teammates did all that work to dig it up, it's nice to see that improvement. It's exciting going forward for the guys in creating a new mindset that we are capable of winning and having success. Hopefully that breeds more success down the road."
The Vikings have this weekend off before heading off to Taber for St. Mary's Double Blue Tournament Oct. 12-13.
"It's a pretty exciting time for our boys program here. It has been a lot of years since we've won a tournament. We've come close a few times and have had some good seasons, but I've been coaching for eight years and this was the first tournament we have won in eight years," said Schellenberg. "It's a big victory for the boys where it lifts the weight off their shoulders in that regard. It was really exciting for the boys being something they haven't experienced and they worked really hard for it. It was neat to see."
QUEEN SUPREME: Vauxhall Queens girls volleyball team is set to host its home tournament this weekend at the high school. The Queens are scheduled to play at 4 p.m. and 7 p.m. on Friday.
Saturday's slate includes 11:30 a.m. and 2:30 p.m. matches for the Queens in the five-team round-robin format.
Playoff semifinals start at 4:30 p.m. with the championship final at 6:30 p.m. on Saturday.