Queens continue winning ways
Posted on October 11, 2018 by Vauxhall Advance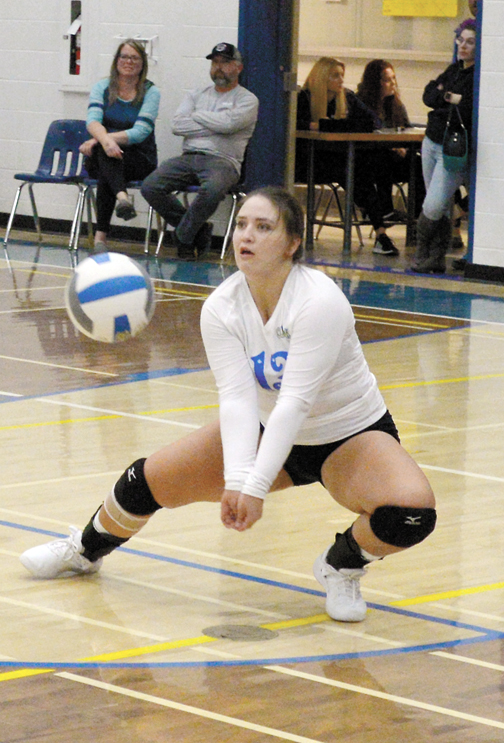 ADVANCE FILE PHOTO
By Greg Price
Vauxhall Advance
gprice@tabertimes.com
The march goes on for the Vauxhall Queens girls volleyball team as it keeps its undefeated streak alive.
But for head coach Scott Reiling, it's getting to a point of how hard he wants his soldiers marching as they make their way to zones and a possible provincials appearance.
The Queens took the championship title of its home tournament over the weekend, dropping a mere set along the way, squaring off against Kate Andrews in the final.
"It's always around this time of the year where we make a big push and work hard and the girls get a little sore and tired. We are pretty healthy, but we are at a stage now that I feel like I have to slow it down a little bit or else I'll run them into the ground," said Reiling. "You have to reach a point in a tournament or a match and say 'I got what I need, now we have to stay a little bit healthy.' It's not that we shut it down, it is just not as much push, push, push. These girls have logged a lot of minutes playing extra matches in tournaments that other teams haven't. You are sometimes playing two or three more matches than other teams."
Being 40-some matches into the season, Reiling added it's tough in trying to ration minutes given the compete level of his athletes.
"For 15, 16 and 17 year olds, that's a lot of swings and a lot of time in the gym," said Reiling. "The home tournament is always important, but you could tell we were getting a little sore and a little tired. We played well, we played our scrappy volleyball that we always do, but I thought we looked a little tired which we are addressing this week."
Reiling wanted to give his team the whole week off from practice to let bodies heal, but the players would have none of that.
"I love the effort. The girls absolutely love the game, to a fault, where they won't tell me if their arms or knees are getting sore because they do not want to be taken off the court," said Reiling. "Even when I said let's take off another day this week they were disappointed. I was prepared to give them the whole week off and they said 'that's not happening'. They insisted that we have to get at least one day in. It's cool to have a team like that where they want touches all the time where I have to lock the gym door if I want to give them a day off."
The Queens are off to the Double Blue Tournament this weekend in Taber at St. Mary's School. Vauxhall has matches at noon and 1:40 p.m. on Friday and 8 a.m. on Saturday before playoffs later on in the afternoon.