Vikings pull off the upset on way to tournament title
Posted on October 25, 2018 by Vauxhall Advance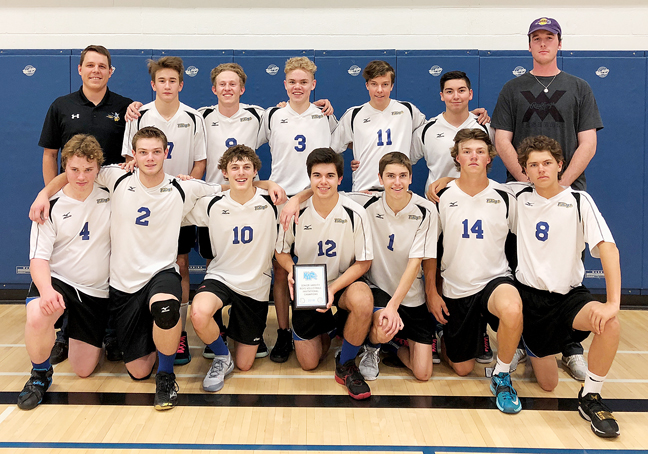 TOP TEAM: Coming off the heels of its home tournament title, the Vauxhall Vikings travelled to Coaldale this past weekend to earn its second tournament title of the season.
By Greg Price
Vauxhall Advance
gprice@tabertimes.com
Vauxhall Vikings boys volleyball team continues to make inroads in the win column this season, earning the championship banner at Kate Andrews in Coaldale, which featured an eight-team field.
"The key for success with us in this one was we served really tough. We tried to minimize the easy balls we gave to the other team, which came through with our serving and limiting our free balls," said Jason Schellenberg, head coach of the Vauxhall Vikings boys volleyball team. "Turning a scramble play into an attack or a tough tip placement. Our focus was not to give easy balls back to the other team and put the pressure on where we could."
The Vikings beat Crescent Heights (Medicine Hat) in the championship final and won 25-17, 25-19.
"They had a very effective middle and we were able to get strong blocks in and shutdown their middle attack which was huge," said Schellenberg.
But it was the semifinal where Schellenberg noted the Vikings had their hardest match against host Kate Andrews Pride. The Vikings round-robin pool featured Kate Andrews, Nobleford and County Central (Vulcan).
"They were a really gritty team. After winning that match in the semis, I was pretty confident about the final with how the draw worked. At that point, Kate Andrews was the team to beat and we just happened to face them in the semis," said Schellenberg.
Schellenberg has seen a huge swing in the positive mindset of the Vikings this season, compared to years past with confidence levels.
"I've heard from others that winning breeds more winning, and I've seen that affect a little bit this year. Guys are going into games and tournaments with the expectation that they are going to win games," said Schellenberg. "Typically in the past, we were maybe categorized as folding under pressure when the going got tough. We got guys now that are rising to the occasion in the moments that count. They are making plays and getting excited about games. There's been a shift in the mentality where maybe before we were going in scared or not confident, to now saying 'we got this'."
The Vikings are now off to the Monster Smash in Vulcan this weekend.
"As a coach, I'd just like to see us continue with this mindset that the players are confident in their abilities. We are gearing up for zones already which is three tournaments away for us," said Schellenberg, with tournaments in Vulcan, and Crowsnest Pass before 2A zones. "These upcoming tournaments will show how we set the table to try and have some success at zones."