Vikings tough at tournaments
Posted on February 14, 2019 by Vauxhall Advance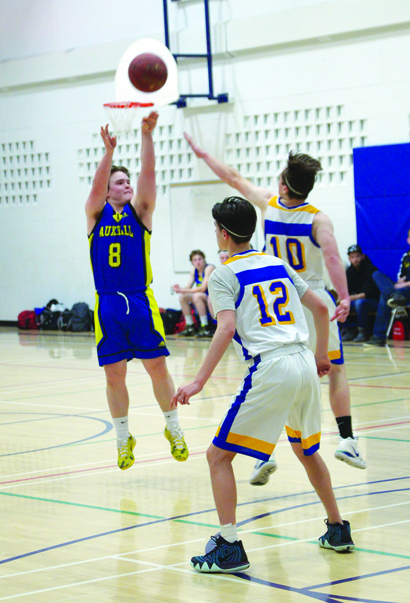 ADVANCE FILE PHOTO
By Greg Price
Vauxhall Advance
gprice@tabertimes.com
As the calendar continues to creep closer to March Madness for zones in basketball, the Vauxhall Vikings boys basketball team are finding they are playing some of their best ball on the court in recent games.
"We've put together six solid games, our play has been really solid," said Daryl Johnson, head coach of the Vauxhall Vikings boys basketball team.
The last two weekends have netted the Vikings a tournament championship in Vulcan this past weekend and a consolation title in Taber at the Rebel Classic in early February.
The spreads were wide in all three games in Vulcan as the Vikings offence has been firing on all cylinders.
"It was a 2A tournament, but not a top-level 2A tournament. But we played with lots of intensity throughout," said Johnson of the tournament run which led to a victory over Black Diamond in the final. "The kids have been executing what I've been wanting and our offence has been clicking. We've been scoring around 100 points the last six games. To be consistent and put up those types of numbers, it has been good."
The offence has been showing its versatility where fast-break points at the start of the season have changed up into a more traditional half-court offence. Capable of doing both, the Vikings have also been aided by some of the strongest balance it has seen in years.
"Right now, we have four or five guys who are playing really good basketball and can score 15 to 20 points each and it's not a big deal for them," said Johnson. "It's pretty fun to have and to watch. They are all willing to pass and share the ball. Teams can't just shut one guy down as there's another guy that will step up. We have a pretty good point guard this year that has made a huge difference running the team and call the plays we want to run. I don't have to do too much of that from the bench. He's sees the team defence and runs plays accordingly."
At the Rebel Classic, the team had a tough first-round opponent in Bert Church it still played tough in its loss, and then won its next two games on its way to the consolation championship.
"Bert Church's fast break was very good and that is what cost us even though it was close (nine points)," said Johnson. "We were in it all the way down to the last two minutes and then we started fouling."
The Vikings bounced back in a big way, earning a blowout victory (40 points) over Stirling, avenging a loss they suffered earlier at Stirling's tournament.
"We knew what they were all about and to tell you the truth, it was some refing (in the earlier loss). It was pretty unreal," said Johnson. "We were in foul trouble before we knew it and it was still close."
The Vikings then earned a consolation title victory over Bowness.
"We won by 22 and we were up by 15 on them in the first quarter. I went deep into my bench and they kept playing hard," said Johnson.
The team is now off for a couple of weeks and hope its gym time can help the team keep its momentum as it makes its march to zones in March.
"These guys really work well together and are balanced. We are at nine guys and if my starters aren't feeling it, I can go to the next guy," said Johnson. "It's a balanced group and it's dedicated group having a fun time out there and like to compete."