Thunder rolls way to provincial title
Posted on April 4, 2019 by Vauxhall Advance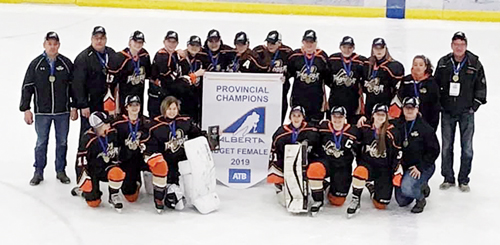 THUNDER AND LIGHTNING: Prairie Thunder rumbled back from a deficit in the gold-medal game at midget Female 'B' provincials to take the title in Leduc last month. ADVANCE PHOTO SUBMITTED BY DAVE KAMBEITZ
By Greg Price
Vauxhall Advance
gprice@tabertimes.com
Two Vauxhall-area youth helped power the Prairie Thunder to the midget Female 'B' provincial championship in Leduc late last month.
Vauxhall's Brittney Kambeitz (centre) and Enchant's Madison Howg (winger) were instrumental having the Thunder hoist the banner and their gold medals in the provincial tournament that featured a 10-team field.
The Prairie went undefeated in the tournament, including going 3-0-1 in round robin play. In a 7-1 victory over Piikani, Kambeitz had two goals and Howg notched a single.
Kambeitz had a big five-goal game in a 6-2 win over Lacoka. Kambeitz would go on to score both Thunder goals in a 2-2 draw with Beaverlodge. Kambeitz's scoring tear continued with tickling the twine twice more in a 7-4 defeat of Calgary.
"Pool play was pretty close and both teams who made the championship were from our pool," said Dave Kambeitz, one of the coaches with the Thunder. "Our 6-2 game with Lacoka was 3-2 until midway through the third, so it really wasn't a 6-2 game someone would see on the scoresheet. It was a much closer game."
Finishing first in the pool, the Prairie Thunder would end up playing Whitecourt in the playoff semifinal, defeating them 3-1 where it was all locals on the scoreboard.
Kambeitz had two goals and Howg a single to have the Thunder crack into the gold-medal championship.
The Thunder did have to roar back in the provincial championship, rallying back from a 2-0 deficit to beat the pesky Lacoka squad 4-2.
"It was just a gritty, hand-in-there game. We knew they were going to play us tight. They were patient on their end, waiting for us to make a mistake. I thought we were going to have to play overtime, but then Brit scored that late goal. They pulled their goalie and we managed to hang on (with an empty netter)," said Kambeitz.
Brittney Kambeitz continued her goal-scoring binge which lasted all tournament, with two more goals, including the game winner with just over a minute left to play. Brittney Kambeitz led the provincial tournament in both goals and overall points.
"It was a good group of girls that were solid together. Everyone had everyone's back. It was one of those things where everything came together at the right time," said Kambeitz, adding the 15-player team also won its league banner with a 17-1 record in its eight-team league. "It was a process where we kept building towards this."
The dedication of Thunder players is immense, were it is difficult to find competitive hockey in girls team hockey in the province.
"We are off to Brooks three times a week for practices and even with girls hockey, you are traveling quite the distance to play. The closest place you are playing from Brooks is probably Okotoks and then we are as far away as Innisfail and all over the place," said Kambeitz. "I wouldn't even want to guess the kilometres we have traveled."