Jets shine at home tournament
Posted on May 23, 2019 by Vauxhall Advance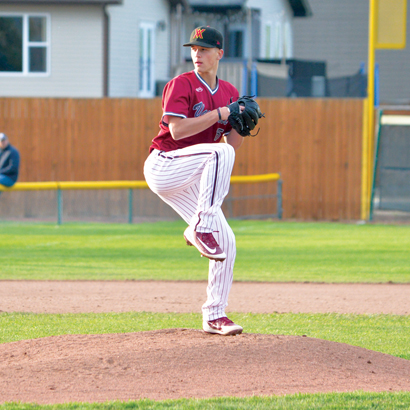 HOME SWEET HOME: With several senior Vauxhall Jets playing their last home games of the season including Adam Macko (pictured above), the team finished out strong as they went 4-0 in the Haven Tournament. ADVANCE PHOTO BY COLE PARKINSON
By Cole Parkinson
Vauxhall Advance
cparkinson@tabertimes.com
While the weather did its best to cause havoc at Jets Stadium this weekend, the Vauxhall Academy of Baseball Jets managed to squeeze out a few games to close their home schedule at the 13th annual Haven Tournament.
With Thursday night providing solid baseball weather, the Jets stormed out with an 11-5 victory over the Lethbridge Elks on Friday night which saw Matt Wiggins start on the bump where he went four innings strong allowing only one hit and gathering seven strikeouts along the way.
Tyler Boudreau and Evan O'Toole finished off the game combining for seven strikeouts which included O'Toole striking out the side to send the Elks home.
Offensively, the Jets got contributions from Dayton Peters (one RBI), Shayne Campbell (three RBI), O'Toole (two RBI) and Logan Domanski (2 RBI).
From there though, weather struck early and often Friday postponing all games to the next day which caused both the Calgary Jr. Dino's and Great Falls Chargers to pull out of the tournament due to costs.
Saturday night, after the hard work was over, it allowed the Jets to hit the field to face off against the Medicine Hat Monarchs.
The Jets were more than ready as they took the game 12-1 after Adam Macko went four strong innings giving up only two hits while racking up 10 strikeouts.
Maddux Mateychuk threw an inning in relief while Justin Adamoski faced three batters with all going down on strikes.
While the weather was gloomy and cold, the Jets bats were on fire as Max Grant hit a first inning no doubt two-run shot over the right-field wall.
Domanski was 1 for 4 with an RBI. Campbell was 2 for 4 with a double and 2 RBI. Carlin Dick was 1 for 3 with an RBI. John Vulcano was 2 for 4 with a double. Jackson Clemett was 2 for 2 with a double. Josh Malainey was 1 for 1 with an RBI and Logan Grant was 1 for 2 with a double and 3 RBI.
Game three saw another win over the Elks as the Jets battled to a 5-3 victory.
Ben Adams was the starter going three innings allowing five hits, three walks, two runs and three strikeouts.
From there, Chase Florendine went the rest of the way and over four innings he allowed three hits, a run, two base on balls and eight K's on route to the win.
The Jets offence was led by a committee of bats as Domanski was 1 for 4. Grant was 1 for 2 with a double and an RBI. Clemett was 1 for 2 with a double. Malainey went 2 for 2.
The final game of the weekend saw the Jets match up against the Monarchs once again.
The game provided much of the same as the first as the Jets went away winners with a final score of 11-2.
Thomas Little started going three innings allowing a hit with six K's and a walk. 
Reece Keller threw the next two innings allowing three hits, two runs with three punch outs and a walk. Adamoski also provided two strikeouts. 
Peters closed things out with a strikeout over one inning.
At the dish, the Jets were led by John Vulcano who was 1 for 5 with a 3 run home run. Dick went 2 for 3 with a double. Peters was 3 for 4 with a home run and 2 RBI. Campbell was 2 for 2. Nick Gravel was 1 for 4 with 3 RBI. 
Next up for the Jets is the Missoula Memorial Day Tournament this weekend.
They then wrap-up their spring season with the annual TCMM Game against the Lethbridge Bulls on May 29 with first pitch at 7:05 p.m. at Spitz Stadium.