Spurs confident heading into second half
Posted on July 4, 2019 by Vauxhall Advance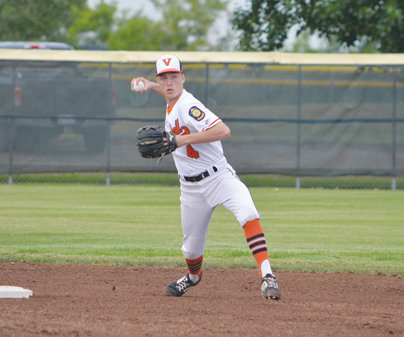 ADVANCE FILE PHOTO
By Cole Parkinson
Vauxhall Advance
cparkinson@tabertimes.com
With rainy weather putting a damper on the Vauxhall Spurs season so far, the team was able to make up a handful of games this weekend.
After being rained out against Fort Macleod the previous weekend, the weather was threatening to do the same on Thursday night in Vauxhall when the Spurs played host to Fort Macleod.
"On Thursday we were an hour and a half delayed with field conditions and Fort Macleod was already on their way. We don't get those games in on Thursday without our parents, they really stepped up. Myself and Rolando (Martinez, hitting coach) were working on the field and we looked up and all of a sudden two more dads were on the field. They didn't even have to be asked and I'm thankful for the parents of our players," said head coach Dru Sebastian.
Thanks to the big help, the Spurs and Royals were able to get both games in and the Spurs walked away with two victories after winning 10-4 and 18-11.
Adding to the already busy weekend, the Spurs headed back out to Fort Macleod on June 29 for a makeup doubleheader due to the previous rainout.
Once again, the Spurs left the diamond with a pair of wins, 15-5 and 14-4.
With two more away games on the slate on Sunday and then another full week of action this week, the coaching staff realizes they may need to call on some different players to take the mound.
"We had six games, Thursday through Sunday and luckily we were well rested. We had plenty of arms to get through it. With the coming tournament this weekend in Spokane, and then turning around for Tuesday, Wednesday league play, that may take a little creativity because we will have to make sure we have enough arms," said Sebastian.
Heading to Lewistown for a Sunday doubleheader, the team would split the games as they lost the first in a close 2-1 contest but rebounded nicely with an 11-9 win.
While the weather may have been cold through the busy last week of June, the Spurs' bats were not as they scored 69 runs in six games.
"Rolando Martinez, our hitting coach, has always preached quality at-bats since Day 1. Our guys have been getting good ABs and took advantage of some pitchers having a hard time finding the strike zone. We had good situational hitting and capitalized on it. Up and down the lineup, 16 guys and it was good to see. Going from game one to game two in a doubleheader with a lineup change and putting six, seven new guys and they step up for us and gave us some production," said Sebastian.
On the other hand, defence and pitching were fairly solid throughout.
While the coaching staff has been shifting players around positionally, they have settled a few position players.
"Guys have got their roles and we have some who stay put but the nice thing is we have three, four, five guys on the roster that are true utility guys that we can move around. It really allows us to get creative with our lineup and mix guys in. When it comes time for the postseason, we are going to be prepared," explained Sebastian.
The Spurs played a yesterday in a doubleheader against Havre Northstars at Jets Stadium with the Spurs sweeping the series with 6-3 and 8-3 victories
From there, the Spurs then head to Spokane on Friday for the Wood Bat Classic tournament.