Spurs struggle at Spokane tournament
Posted on July 11, 2019 by Vauxhall Advance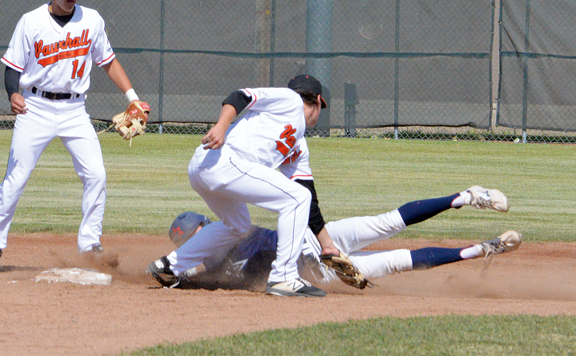 ADVANCE FILE PHOTO
By Greg Price
Vauxhall Advance
gprice@tabertimes.com
It was a tough go of it for the Vauxhall Spurs who finished its Wood Bat Classic Tournament in Spokane, Washington with a 1-4 record.
The Spurs opened its tournament with an 8-2 loss to Kennewick Outlaws.
"It was a tough adjustment at first (with wooden bats). We came out slow a little with the bats with a lot of weak outs," said Dru Sebastian, head coach of the Vauxhall Spurs.
That continued on Friday to register a 5-2 loss to CDA Lumberman. Then came the heartbreak of a 13-12 loss to Parkland Twins in Saturday play in a contest that saw the Spurs lead big.
"We had a 12-5 lead going into the last inning where we sort of imploded upon ourselves. As the game went along we slowly put some guys in and took some others out to get some playing time. It was a good experience for our guys throughout the roster to compete against a talented team," said Sebastian."
With districts coming up in a week-and-a-half, I wanted to put our team in a position where if things start to go south, we are familiar on how to stabilize the game and get out of it. It's a good learning experience for the post season."
The Spurs lone victory came against Edmonton Padres which featured a pinch-hit grand slam from Johnny Vulcano where Brady Howg was able to close the door after the Spurs took the lead in a 6-3 win.
"That was a great effort coming off such a heart-breaking loss," said Sebastian, adding the team finished off with an 8-0 blanking at the hands of a strong pitcher with the Spokane Northstars. "They threw one of the highest-quality pitchers we saw all tournament. He was a mid-80s lefty that gave us fits."
Focusing on conference play that looks like the Spurs will be securing first-place overall, just previous to the Spokane tournament, the Spurs recorded 6-3 and 8-3 victories over Havre Northstars at Jets Stadium last Wednesday.
"We are looking to wrap up the division title, so we didn't start our No. 1 arm or our No. 2 arm to start the tournament either. Our pitching staff rotation was sort of out of sync," said Sebastian.
The Spurs sat at a 14-2 conference-leading record heading into Tuesday's play, with a healthy cushion over Lethbridge Miners who were 14-10 with the Spurs having numerous games in hand.
The Spurs hosted Tri-County Cardinals on Tuesday for a doubleheader. The team played its last home games of the season yesterday with a doubleheader against Medicine Hat Knights.
"It's important that we wrap up well on the regular season. We will be having our two senior arms going on Wednesday. That will lead into the weekend where we will have our middle-tier arms," said Sebastian. "I really do not want to take our foot off the pedal at all. The nice thing is the team we will see in the first round of the playoffs on Saturday and Sunday, we will be able to hide some of our arms and guard ourselves that way."
The weekend Sebastian speaks of is road doubleheaders against Havre Northstars and Lewistown Redbirds on Saturday and Sunday respectively. The Spurs only require a record of 2-6 over its last eight games to be guaranteed the top seed in the upcoming district tournament in Medicine Hat which runs July 18-21.