Spurs in State of euphoria
Posted on August 8, 2019 by Vauxhall Advance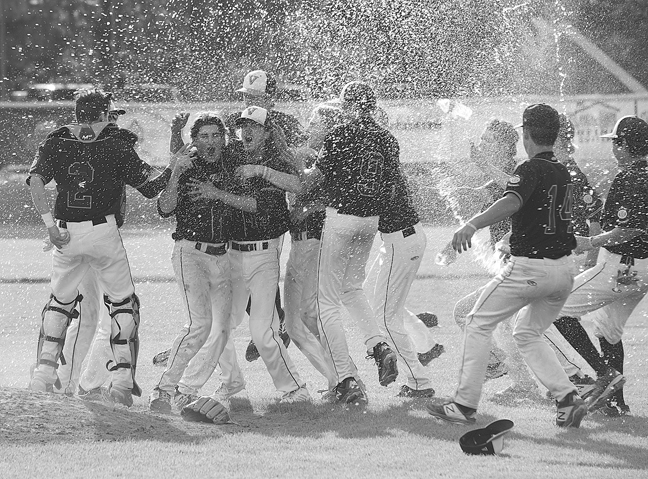 VICTORY LAP: The Vauxhall Spurs baseball club storms onto the field in celebration after its State championship final victory over the host Bitterroot Bucs. ADVANCE PHOTO SUBMITTED LORALEI FUJITA
By Greg Price
Vauxhall Advance
gprice@tabertimes.com
The Vauxhall Spurs made history last week, winning the Montana Class 'A' State Tournament in Florence.
The Spurs defeated host Bitterroot Bucs, but not before setting the tone as a team of destiny by issuing an opening statement game with a 6-0 blanking of Dillon Cubs.
"It is important to have your 18-year-olds play their best at the end of the season and that was Brady Howg's best pitching performance of the year. He kept it to under 80 pitches and allowed us to bring him back on (championship) Wednesday," said Dru Sebastian, head coach of the Vauxhall Spurs, of Howg who went 5 2/3rds innings on 77 pitches. "We were able to piece together the last four outs (for the shutout). He pounded the strike zone all weekend. I think he only gave up three walks/hit by pitches in 12 2/3rd innings on the weekend. He got ahead early on batters and the pressure was taken off with great defence behind him."
The Spurs continued its championship trek with a 7-2 victory over Mission Valley Mariners.
"We didn't really swing the bats all that well, but we had a big second inning with some situational hitting," said Sebastian, adding Aaron Vulcano pitched a solid complete game, surrendering only one earned run. "Mission Valley shut us down pretty good, but we had the one big inning that we needed."
Any concerns about the Spurs' offence being able to do some of the heavy lifting at State were quickly erased with a follow-up 14-4 drubbing of Laurel Dodgers which featured a home run by eventual tournament MVP Johnny Vulcano.
"We had 16 hits that game. Our guys came out with a lot of energy from the get-go and the offence was firing on all cylinders. We were getting bunts down, we were getting big two-out RBIs. Carson Cleland had five RBI that game, all with two outs," said Sebastian. "It was a one through nine effort in the batting order. Laurel had the best winning-percentage in the tournament and we knew they were going to be a tough opponent. But, we were ready to play right from the first pitch. I knew Adam Vulcano would be up for the moment and he gave us a decent start and kept us in the game and we used three other arms to piece it together to slow down their momentum and throw different looks at them."
The impressive start to the State tournament by the Spurs punched its ticket to the championship final early, making the team's contest against Gallatin Valley Outlaws right beforehand a game where Vauxhall could be strategic in conserving its pitching in the double knockout format.
"We were drawing some of our younger guys who were strike throwers. We wanted to make sure we had a full house going into the championship game and that's what makes winning those first three games so important," said Sebastian. "It forces other teams to burn more pitching. We knew we would have our No. 1 arm (Brady Howg), while others were using their No. 5 and No. 6."
But, the big and physical Outlaws were able to pound the Spurs to the tune of a 13-3 loss heading into the championship.
"They had the most pop in the tournament. We didn't mix up our lineup too much and we were hoping to get off to a fast start. Give their team credit, they threw one of their better arms," said Sebastian. "But, we knew going into the next day (Aug. 1), we would be in a good position if they came back to us with our pitching."
While the Spurs were on the cusp of making history heading into the State championship game, there was at least some nervousness that a team in the host Bitterroot Bucs would be a team of destiny.
The host team was the eight-seed in the State tournament, getting into State by virtue of being host after getting knocked out in two straight games in districts. Nevertheless, after getting beat down by Laurel Dodgers in its opening State game after a disastrous 12-run first inning, the Bucs ran the table to the State championship final.
The Bucs eliminated Lewistown Redbirds who had been a thorn in the Spurs' side in league play, beat Mission Valley and had an eerily similar situation in Major League Baseball lore that happened to its opposition in its semifinal against Gallatin Valley Outlaws.
"They won the morning semifinal 15-14 and they kind of hit a squibber with two out that Billy Bucknered the first baseman, where he got ahead of himself a bit and it went between his legs, and that scored the winning run," said Sebastian. "It was quite the chaotic game overall."
But the host Bucs ran out of magic against a well-rested Spurs team that had all its chess pieces lined up well on the board for the championship, from its hitting line up all the way to its available pitching.
"They had some momentum, but I knew we just needed to come out early and punch them in the mouth which we did," said Sebastian as the Spurs jumped to a 9-0 lead after two innings on the way to a victory 11-3. "I wasn't comfortable until we had that final out but overall my nerves were pretty calm. We clearly had our one through nine established and when you have your 18-year-old No. 1 (Howg) on the mound, you can breathe easier because we knew it was a perfect scenario for us. It was exactly where we wanted to be in this spot."
Coach Sebastian gave a tip of the hat to Taberite Kole Fujita who gave a steady presence behind the plate while smacking around some timely hits.
"He's been a big-time backstop for us. He was complimented by umpires all week for the good job he did receiving. He was a key cog for us in the leadoff spot setting the table," said Sebastian.
The man at the helm gushed about his whole team that had made so many positive strides al season long.
"It's a great group of kids that have worked hard. On Day One, when I first got here, we had six returning players and 10 new guys. We looked at the first practice and said 'man, we have a lot of work to do.' But, these kids have played hard and done everything we've asked of them," said Sebastian. "We just got better and better. The kids continued to work hard and earn everything that got coming to them."
The team is now off to Cody, Wyoming for the American Legion Class 'A' Northwest Regional Tournament where it will compete against State champions Wyoming, Oregon, and Alaska from Aug. 9-13.
"From my understanding, the State of Montana has been served very well in this. The State champion last year, Glacier won it and the runner up Bitterroot Red Sox finished in third and host Cody, Wyoming finished in second," said Sebastian. "Wyoming will be a really big challenge for us."