Spurs undone by errors
Posted on August 15, 2019 by Vauxhall Advance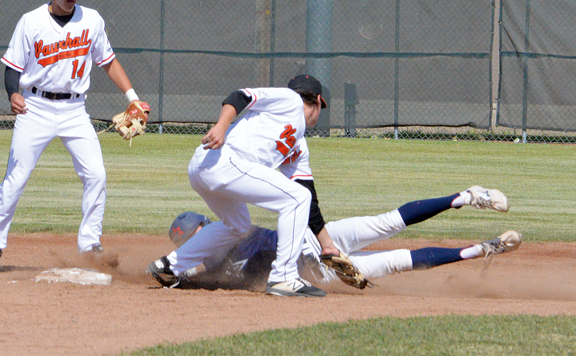 ADVANCE FILE PHOTO
By Greg Price
Vauxhall Advance
gprice@tabertimes.com
Vauxhall Spurs had their struggles at the Northwest Class 'A' Regional Tournament, with their run ending earlier this week in Cody, Wyoming in what was otherwise a season to remember in the history books of Spurs Baseball.
The Spurs ended its tournament run with a 1-2 record, with some self-inflicted wounds helping lead to the team's early exit.
"All the teams were well coached, they have to be when you get to that level. The talent level wasn't much different than our State tournament overall based on the teams we played," said Dru Sebastian, Spurs head coach. "It just wasn't our best weekend of baseball and it was kind of frustrating to end on that note."
The Spurs started its tournament with a marquee match against host Cody, where 1,000 fans packed around the field to see the Spurs fall 3-1.
"All four runs in that game were unearned. It was basically four or five mistakes in that game that was the difference. It came down to they capitalized on two more pitches than us," said Sebastian. "We struck out 13 times and they had a pretty good arm on the mound and it was tough to overcome that. The first arm we saw threw harder than what we've seen, he had good ride on his ball with good backspin. Our hitters hadn't seen something like that all year."
Game 2 saw the Spurs battle the Portland Red Sox from Oregon, where the Spurs' struggling bats earned a reprieve from a two-hour rain delay.
"The field was flooded and everyone had to go out there and help get the field cleaned up and ready to go again. We came out and put on a bunting montage and we scored three runs and only hit one ball out of the infield," said Sebastian of the Spurs' eventual 5-4 victory. "The bats were silent, but we found a way to win."
Faced with a must-win to advance in the double knockout formula knockout, the Spurs saw their regional tournament run end with a following 7-5 loss to Cheyenne Hawks in Game 3.
"We built a 5-3 lead and then some errors got away from us and the bats were again silent for most of the day. Out of the seven runs, we gave up two that were earned," said Sebastian. "It was a frustrating weekend. Maybe the boys just ran out of steam with such a long summer of baseball. The boys were pushed hard and they played hard all summer."
The Spurs were hampered at regionals without the service of all-district left fielder Dallas Cummins, who required minor surgery, who previously formed a dynamic duo of fellow all-district outfielder Carson Becker who helped make for some of the best defence in American Legion baseball.
"He was our No. 2 hitter and left fielder. It was sort of a punch in the gut, he was a key cog for us up to that point," said Sebastian.
While the ending of the 2019 American Legion 'A' baseball season ended off on a bit of a whimper for the Spurs, taking stock of the season as a whole is one to remember in the history books of the Vauxhall Spurs Baseball Club.
"After our season was over, based on our accomplishments, this was the third-best team in Spurs history in their existence. It's something for the boys to be proud of and hold their heads up high," said Sebastian. "With 10 new guys at the start of the season, I'd almost say we overachieved in our expectations."
COACH'S CORNER: For coaching staff Dru Sebastian and Rolando Martinez (hitting), it was the first experience for both helming a team north of the border and one both found enjoyable.
"It was a nice experience for us being adopted Canadians for the summer for a specific coaching job. This is definitely a summer I will remember throughout my coaching career and look back on it fondly," said Sebastian. "It was a great group of kids, and great group of parents. The kids worked hard and took in everything we taught."