Vauxhall Jets kick off fall season
Posted on September 12, 2019 by Vauxhall Advance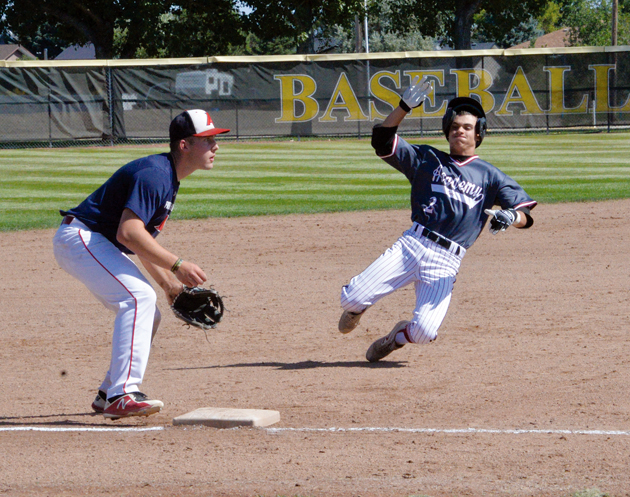 ADVANCE FILE PHOTO
By Cole Parkinson
Vauxhall Advance
cparkinson@tabertimes.com
Even though summer is fading, that doesn't mean the baseball season is over just yet.
With the start of another school year means another Vauxhall Academy of Baseball Jets fall season, which kicked off last week in the team's annual Spirit Week game at Jets Stadium.
Students for both Vauxhall Elementary School and Vauxhall High School were both in attendance to see the Jets take on the Prairie Baseball Academy from Lethbridge.
While the Jets took the early lead, they would eventually fall to PBA 7-3.
Six Jets would take to the mound including Levi Abbott who started the game going two innings allowing one hit, one walk and two strikeouts.
Reece Keller, Justin Adamoski, Ben Adams, Maddux Mateychuk and Tyler Boudreau would combine to finish the rest of the game.
Offensively, the Jets saw Logan Domanski, Carlin Dick and Max Grant drive in runs.
The Jets would head to Lethbridge Saturday and Sunday for a pair of doubleheaders against a split PBA squad which would see the Jets combine for a 1-2-1 record.
The Jets would win the first 7-1 thanks to great pitching performances from Adams, Adamoski and Anson McGorman.
The bats were on fire to start the day with Dick (triple, double and an RBI) and Grant (triple, double and three RBI) sparking the offence with big days at the plate.
Game two was a 6-6 tie which saw Boudreau back on the mound while relief came from Hunter Porter and Cole Alguire.
At the dish, Domanski, Grant and Aaron Vulcano helped push the offence to a tie.
Sunday saw a pair of 3-2 losses at Spitz Stadium to wrap up the weekend.
"It's been a pretty good start overall and we're happy with the group. We played everybody and moved guys in different positions. There has been a lot of positives that way," said Jets head coach Les McTavish. "We're pretty happy with the group and they have gotten after it and worked hard. Hopefully, they learned a bit already and now they can take a deep breath and settle down and work on their game."
After a handful of high school seniors departed from the team last summer, this year the Jets have 12 returning players while adding 10 new ones.
With a big turnover in terms of their roster, the coaching staff and the new players get a good chance to see what each other are about during the fall season in both games and practice.
"There definitely is a feeling out process but I think overall we've been happy with how things have worked out. A lot of our veterans have done a good job showing them the way and the ropes," explained McTavish.
A part of the process is finding where players slot into the lineup both in the batting order and defensively out in the field.
"We have had players all over the place, we've moved guys all around and I think it is important to do that. Ultimately that shuffle is going to happen the entire fall and even into the early part of the spring season. Lots can change from now and then," added McTavish.
All players who are expected to pitch for the Jets have already toed the rubber this fall season and with a rotating cast in the field, the coaching staff is confident replacing the former players won't be an issue.
"Absolutely, I think there are a lot of good pieces to the puzzle and we're happy with where the group is. I think overall as a group, we're in a good spot. We'll see how much they push and that will give us a good idea of where our weaknesses are. Really, the wintertime, November through February, is where you can change your career," continued McTavish.
The fall season has only begun but the Jets already have five games under their belts with more on the horizon this weekend at the Keith Jorgensen Memorial Showcase where games will be played in both Lethbridge and Vauxhall (Spitz Stadium and Lloyd Nolan).
"There are three different diamonds we'll be playing on. We just hope the guys play hard and continue to grow. Also learning to continue to deal with failure and that's a big part. At this time in the year, it is okay to fail and you want to learn how to deal with that," said McTavish who also alluded to the fact several colleges will have scouts at the tournament.
While it may be hard to ignore the fact scouts are in the stands, the coaching staff preaches being yourself and playing your game to the players before they take the field.
"We just want them to go and play. We want them to trust their ability and we try not to say a whole bunch about it. I think if you analyze that too much and worry about it, it detracts from who you really are," stated McTavish.
The Jets kick off the tournament on Friday night in Vauxhall with a game against Team Saskatchewan.