Queens learn from lessons on way to title
Posted on September 26, 2019 by Vauxhall Advance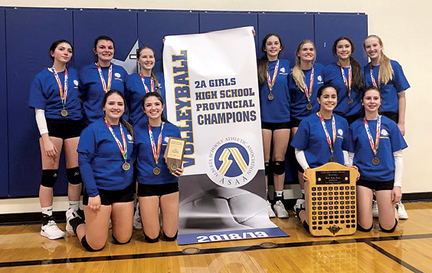 ADVANCE FILE PHOTO
By Greg Price
Vauxhall Advance
gprice@tabertimes.com
Two more tournaments, two more finals appearances for the Vauxhall Queens girls volleyball team.
Only this time around in one of them — the opposition pushed back.
"We did well. We are doing what we do and keep plugging away and working really hard," said Scott Reiling, head coach of the Vauxhall Queens girls volleyball team.
"It's a different looking team this year, but at the end of the day, we're effective."
Two weekends ago, the Queens battled tough at the Lethbridge College tournament, playing really well up until the final against McCoy.
"We lost in the final to McCoy. That (match) there, we had the lead the whole first set and then they made a little run. We got a little timid and we threw away a few points that we don't normally do and lost a close one," said Reiling of a 24-26 first-set loss, on the way to a McCoy sweep. "They kind of jumped on us the second set. I got a whole bunch of new starters and when teams start to push, we have to know what we have to do to push back. That's something we've really focused on these past two weeks. We have to get that momentum back and not play safe. You have to do something to steal that momentum back and keep it rolling."
The Queens were coasting up until their tournament final at Lethbridge College, dominating its opposition with some lopsided scores, where Reiling was happy to run into some adversity in a lesson to be learned from.
"The girls had things under control for most of the time where we really didn't have a close game up until then (McCoy). We had a really, really good tournament, beating a lot of big schools," said Reiling. "McCoy is a pretty good team who doesn't have a lot of weaknesses. They just kept the pressure on us and we didn't know how to turn it around and put it back on them. It's learning to throw that punch back instead of just weathering the storm. We got to a point where it was like 'don't hit it out the back', instead of 'let's score a point here.' Up until that game, we had all the teams in panic mode where every time they gave us a free ball, we made them pay. That was the first time where it was like 'uh, oh, we are in trouble'. It was good for the girls to feel that."
The Queens took those lessons to Three Hills this past weekend, which will be the eventual host of 2A provincials. The Queens did indeed push back this time around, all the way to the tournament title, against a very good team in the final in St. Augustine School out of Ponoka.
"St. Augustine got fourth in 2A provincials last year and they only had one Grade 12. This is a team that could contend this year and when I'm at provincials, I'm always looking at the teams that have all the Grade 10s and 11s and this is one of them," said Reiling. "Their Grade 10s were super strong last year. We thought this was one of the teams to beat and we beat them twice, once in the round robin and in two-straight sets in the final. I even had one of my better players sitting out of those finals. We went back to bullying people and not giving them any room to breath. No free balls and serving tough all the time. It was good to see that we were getting closer to where we need to be. I don't think we are quite there yet, just a few more players need to get some more confidence."
The Queens now prepare for a tournament in Camrose this weekend.
"We are checking out some of the northern teams and we'll be checking out some very good teams, including St. Augustine again," said Reiling. "We'll see if they went back to the drawing board this week and figure out if they are going to attack us differently. There will also be a few other powerhouses around there. It's nice to go on the road and see some different teams, where we can get better, and see how we are going to beat the upper echelon teams."