M.D. council provides donations to upcoming Pheasant Festival
Posted on October 3, 2019 by Vauxhall Advance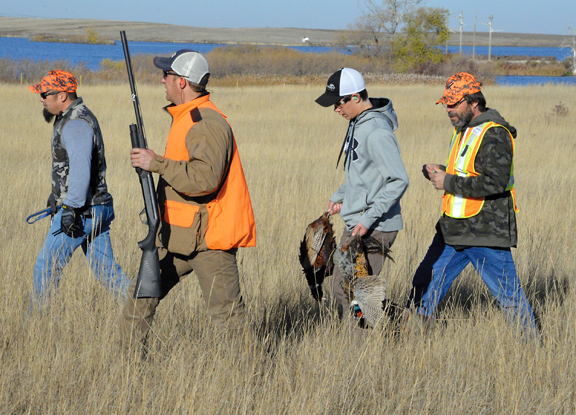 ADVANCE FILE PHOTO
By Cole Parkinson
Vauxhall Advance
cparkinson@tabertimes.com
The annual Taber Pheasant Festival is geared up for Oct. 16 to 26 and the Pheasant Festival Association was in need of several different in-kind donations from the Municipal District of Taber before the event begins.
During council's regular meeting on Sept. 24, councillors were brought to attention on the requests the group had asked for.
The Municipal District of Taber has sponsored the Taber Pheasant Festival each year since 2013, providing sponsorship of $2,500 in each of the years including 2019 and in-kind donations of maps and mowing have been provided by the M.D. in 2017 and 2018.
"A number of these have been done in the past, one of which was the CPO's (Community Peace Officers) which was done last year. They were having trouble with not registered hunters hunting the sites of the newly-released pheasants so all they needed was the CPOs to patrol the sites and it seemed to work really well," said Coun. John Turcato, who also sits on the association board.
Asks from the group this year include an M.D. of Taber banner, 10 large M.D. maps, a number of M.D. book maps, pens for gift bags, mowing of the Novice hunt by the Ag Service Board (ASB) and CPO patrols of past problem sites.
While Coun. Turcato highlighted the addition of CPO patrols at last year's week-long hunt, council got a bit more insight into how well it worked and how they expect to continue that forward come mid-October.
"We teamed up with Fish and Wildlife, along with the Pheasant Festival Association, and the CPOs were working with Fish and Wildlife, who have authority over these matters," explained Kirk Hughes, CPO sergeant. "We were basically doing trespassing and other municipal bylaws and it worked really well. I know they didn't get near as many complaints last year as the year before. That presence really makes a difference and the CPOs are happy to assist with the pheasant festival like they did last year."
As far as the other requested items or services, none seemed to present any sort of challenge for the M.D.
Administration stated they already had enough pens in stock to cover that portion and the ASB was ready to move onto mowing of the novice hunt grounds very soon.
The newest request was to have book maps at hunt sites as before they could only be purchased at the M.D. offices within the Administration Building.
"What they are asking is to have a number of them there because what they have been doing is sending people here to buy them. So they would be selling them for the M.D. there just to make it more convenient for the hunters. There are hunters who want to buy these maps and they would be available," stated Turcato, while administration confirmed they would be able to accommodate that ask.
A motion was made to approve the in-kind donations for the 2019 event and was carried unanimously.
Councillors Brian Brewin and Murray Reynolds were absent from the meeting.