Queens win provincial bronze
Posted on November 28, 2019 by Vauxhall Advance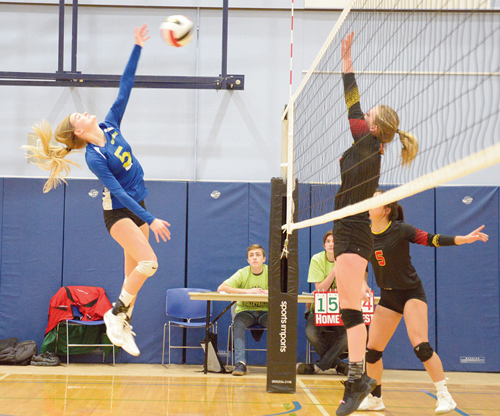 ADVANCE PHOTO BY COLE PARKINSON
By Greg Price
Vauxhall Advance
gprice@tabertimes.com
When the smoke cleared from 2A high school volleyball provincials in Three Hills, the Vauxhall Queens emerged with a bronze, as the squad was undone by one bad set in an otherwise impressive provincial run, capping another impressive season.
The Queens' round-robin pool play record gave them a bye into the semifinals which saw them fall 22-25, 25-17, 7-15 to the Magrath Pandas, pushing them to the bronze-medal game.
"It was a great tournament. When you get to the end of the year, all the teams are a little banged up, sore and tired. The girls went out and competed their brains out. When you get to that level, there's such a small difference between first place and 10th place and it's whoever puts it together at the right time," said Scott Reiling, head coach of the Vauxhall Queens girls volleyball team. "We had a great run winning our pool and we beat some fantastic teams. We caught Magrath coming off a quarterfinal playing really, really well. We just got caught in a couple of rotations where we weren't playing as well, but at the end of the day, they played well and we played well at times which is what good teams do. You got to have a winner and unfortunately, we were the loser. One point here or one point there would have been big for momentum."
St. Augustine, Ecole Beausejours, Strathcona-Tweesdmuir, La Crete and Calgary Christian were all in the Queen's pool in which Vauxhall fared quite well before playoffs, going undefeated.
The Queens kicked off pool play last Thursday with a 25-15, 25-21 victory over Ecole Beausejours.
Vauxhall's Friday morning match was a 25-18, 25-16 victory over La Crete. Vauxhall continued Friday play with a 21-25, 25-19, 15-10 win over Calgary Christian. The Queens concluded its Friday competition in a 25-20, 25-17 win over Strathcona-Tweesdmuir.
Round-robin pool play was concluded on Saturday morning as the Vauxhall Queens beat St. Augustine 25-21, 25-18.
The Queens finished things off strong with a 25-18, 25-13 victory over St. Augustine to earn its bronze medal.
"I've said this several times. Sometimes the Vauxhall girls don't realize how difficult it is to win a zone banner and how difficult it is to get to provincials. We do it all the time and how difficult it is to finish top three in the province," said Reiling. "I've learned as a coach, anytime you get into that situation, you have to cherish it, because it may not ever happen again."
The old sports cliché says sometimes it's harder to win the bronze-medal match than it is gold mentally, because you are having to recover from a loss, knowing your chance at gold has disappeared.
Reiling added his team was all business in its final goal, and was able to beat St. Augustine easily, trouncing them 25-13 in the bronze-deciding set.
"It's a quick turn around (between matches). I knew we were going to win that third-place game because when I met with the girls, I asked them 'how are we going to go out?' There's only two teams who are going to finish the year with a win and we had that opportunity," said Reiling, adding the Queens have won bronze a handful of times at provincials in recent memory, where the Queens got plenty of medal match playing time for bench players. "If they left everything out on the court, I'd think nothing less of them. If they were going out to win this game, I had their back. We went out there and crushed them and I got everyone out on the floor, and it was a really good team we were playing."
Rundle College would end up winning gold over Magrath, beating the Pandas 25-18, 25-19.