Tie-breaker ends up heartbreaker at provincials
Posted on November 28, 2019 by Vauxhall Advance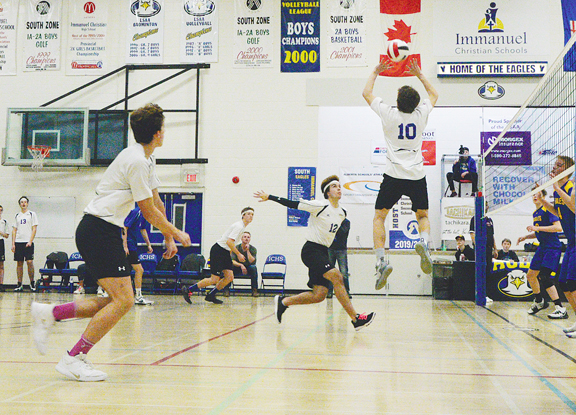 HIGH-FLYING: Nolan Gartly (right) climbs the ladder as he looks to setup Braxton Wolfer (middle) for a smash during a Vauxhall Vikings match at ASAA 2A boys volleyball provincials held at Immanuel Christian this past weekend. ADVANCE PHOTO BY TREVOR BUSCH
By Greg Price
Vauxhall Advance
gprice@tabertimes.com
All three teams from the south zone made it to the playoff round of 2A boys volleyball provincials in Lethbridge, where the Vauxhall Vikings fell 19-25, 23-25 in a loss to Taber's St. Mary Celtics in a provincial quarterfinal, the team it had beat the previous weekend for the zone banner.
On the surface, it looked like the Vikings would be able to get a bye into the semifinals given its impressive 4-1 record in pool play. But, three teams finished with identical records and the Vikings found themselves on the tail end of a tie-breaking formula, making them play the extra match.
"It was such a tight tournament. Every team was so good and so competitive. Any one of those teams in our pool was capable of winning at any given moment. To go 4-1 in round-robin play, which is quite respectable, and still finish third in your pool heading into playoffs was a bit of a heartbreaker for us," said Jason Schellenberg, head coach of the Vauxhall Vikings boys volleyball team. "The boys pushed quite hard to do well in round-robin play and we beat Immanuel Christian, the eventual provincial champs. But due to the tie-breaking formula, finished third, and had to play a really tough quarterfinal match."
Schellenberg admitted his squad fought valiantly in the quarterfinal, but was gassed both physically and mentally, having a quick turnaround from beating Immanuel Christian in pool play to playing St. Mary in the playoffs, with all three teams featuring battles among each other during zones and previous tournament play in the south.
"The kids laid it all out on the court. I didn't question their heart or their desire at that point. But they had nothing left in the tank and St. Mary played really well against us and advanced on," said Schellenberg.
Pool play featured Vauxhall beating Rundle College 19-25, 25-18, 15-9 in its opening match last Thursday. The Vikings' lone loss in pool play came in a tight 25-27, 23-25 defeat at the hands of J.R. Robson.
"It's one match in round-robin that was decided by a total of four points (over two games), which went to extra points, and that was still enough to finish third in the pool, it was that close," said Schellenberg. "It was a crazy level of competition. I've heard it said from other coaches at provincials, saying this is one of the hardest banners to get in high school sports. So much has to happen just right and unfortunately for us, we came out on the unlucky side with a tie-breaking quirk or whatever you want to call it with something that's out of our control."
"But certainly, I told my guys at the end of the tournament, hold your heads high. You played with everything that you had. We can walk away from this tournament knowing we gave it our all and we did something this season we can be proud of."
The Vikings opened its Friday play with a 30-28, 25-22 win over Strathcona-Tweesdmuir, followed by a 25-20, 25-22 win over Vauxhall OLMP.
The Vikings would end off its pool play with a 25-20, 20-25, 17-15 victory over eventual gold-medal winning and host Immanuel Christian in its own gym.
Vauxhall, St. Mary and Immanuel Christian were in battles all season long with each other with splits, showing how strong the south zone was at provincials.
"I call it the circle of death. Immanuel beat a team that beat us and then we beat Immanuel. It was like a dog chasing his tail to see which team should have finished ahead of each other (in pool play). They look at sets for and against and what ended up killing us in seeding was needing the extra set against Rundle College to win that match. That was enough to bump us to third and showed how tight the competition was," said Schellenberg.
Immanuel Christian beat Calgary Christian 25-16, 25-23 in the gold-medal match. J.R. Robson beat St. Mary Celtics 25-18, 25-19 in the bronze medal match.
"The momentum we gained by winning the Vulcan tournament and then the 2A zone banner, it's easy to forget that you accomplished some of those things when you end the provincial tournament on a loss. You just remember the last game you played," said Schellenberg. "But to win the zone championship was a big deal for the boys program here and our school. It was something that wasn't done 31 years prior. I really hope it's something the school builds off of and spurs on the next wave of athletes from junior high. I'm super proud of the boys and what they were able to accomplish this season. Winning is fun and we play sports with that as one of the goals in mind, but it's not necessarily about the banner for me. It is did we do the things we can control? Did we give it our all? Did we leave that court knowing we gave everything that we possibly could? At the end of the day, we did those things."