Vikings ready to plunder River Ridge
Posted on December 5, 2019 by Vauxhall Advance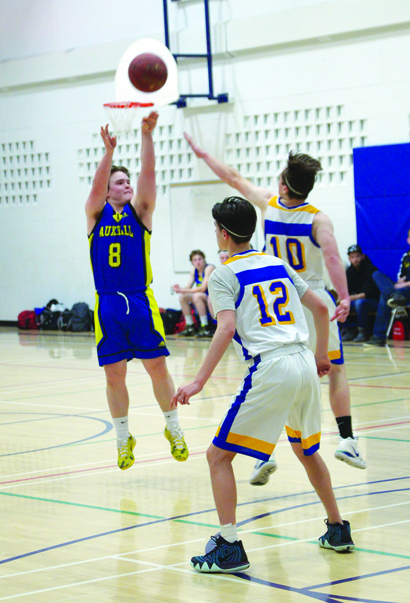 ADVANCE FILE PHOTO
By Greg Price
Taber Times
gprice@tabertimes.com
Vauxhall Vikings boys basketball team are ready to embark on another season as a favourite in the River Ridge Basketball League, along with making some noise at 2A zones as well.
The Vikings are off to a mini-tournament in Brooks this weekend before traveling to Taber for its first River Ridge League game on Tuesday to battle the Celtics.
"I've got five guys back from last season which makes for a good core and then we added seven more for 12 guys," said Daryl Johnson, head coach of the Vauxhall Vikings boys basketball team. "I always sort of tell the guys that December is sort of our pre-season. This year it really is a pre-season (with some practices lost due to weather). We have seven games this month, and we will be lucky if we can squeeze four practices into there. It's not your ideal start. On the same hand, you have to see games to see what the guys are like and then you know what you need to practice."
Even without the regular practice time to start the season, Johnson noted with five returning players, it is a luxury he usually has not seen in the past.
"We have a good returning core which is something we usually don't get. Usually every year it's a kind of full-on turnover, where we keep maybe two or three guys. Those five guys can all start if I want and impact a game," said Johnson. "That's pretty nice to have for us as coaches."
Defence will be focused on for now in the early-portion of the system, with offensive systems being implemented later when Johnson knows exactly what he has for various roles.
"Defence is always defence. Everyone can give me their all there and it is what it is," said Johnson. "I basically always run the same things on Defence, but offence you got to see what players you have. If you have strong big guys, you can go more inside or if it's smaller guys you have to play a different style. We'll figure things out as we go along on offence and focus on defence our first few practices."
The Vauxhall Vikings play the St. Mary Celtics on the road on Tuesday at 7:45 p.m., with the Vauxhall Queens playing earlier at 6 p.m.
"Expectations are always high. We are shooting for the zone tournament which is your goal to be ready to play there and make that final game. To play for the zone banner is what we look forward to and what we gear our season to," said Johnson. "In December and January, you have to build good habits to be ready for zones which is later in March this year. The season extends a little longer than normal, we'll see how that goes."