Queens looking to find up-tempo groove
Posted on December 12, 2019 by Vauxhall Advance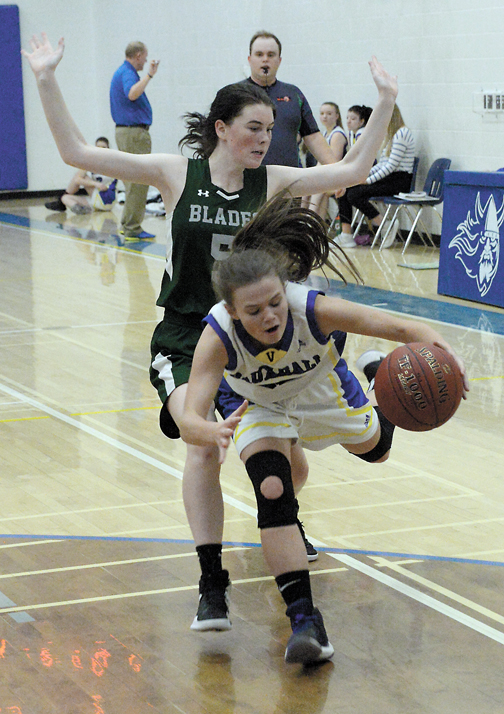 STAY IN YOUR LANE: Laci Quiring of the Vauxhall Queens girls basketball team picks up the foul driving in the paint against Noble Central Blades in the opening round of the Megan Kondor Memorial Basketball Tournament in Vauxhall on Friday. ADVANCE PHOTO BY GREG PRICE
By Greg Price
Vauxhall Advance
gprice@tabertimes.com
The Vauxhall Queens girls basketball team will be trying to play the role of David to the Goliaths this year size-wise when it comes to their competition.
That fact was prevalent when the team played their opening game of its Megan Kondor Memorial Basketball Tournament on Friday in an overtime loss to Noble Central Blades.
"We are small, and that hurts us when we have to play bigger than we are. Our biggest challenge will be when we play a big team and securing that second shot off a rebound," said Allen Matthews, head coach of the Vauxhall Queens girls basketball team, where the Queens' tallest player hovers around the 5-foot-nine, five-foot-eight range. "They (Nobleford) were big and fairly quick for being big."
The Queens would end up losing the consolation final to Senator Gershaw Gators, after easily beating Crowsnest Pass JV earlier.
"We stayed with Bow Island until about half way through the fourth quarter. We got into some foul trouble with a couple of girls fouling out," said Matthews. "There was a girl that was a little bit bigger and aggressive that we struggled with. That girl dominated the offensive boards and we struggled boxing out."
On Tuesday, the Queens took the St. Mary Auroras on the road right until the final possession before the buzzer in a tight loss in River Ridge Basketball League play.
"Our turnovers killed us. I'm suspecting we were well into the 40s for turnovers," said Matthews. "You cut that even in half and then it's not even a close game. It's a 10 to 15 point win for us," said Matthews. "The girls will learn. They are anxious and they want to work hard. It's just about court awareness. It's knowing the right time to pass and when it isn't, and knowing how to pass into the post. If someone is sealed, you're not trying to lob the ball over the field. It's little things that if we work on, we'll get better at."
The Queens go to Kate Andrews in Coaldale for a tournament which starts today. The Queens host Erle Rivers at home on Monday at 6 p.m. in River Ridge play.
"We are fast, but we haven't figured out how to utilize that speed yet. For me, we are small, we are fast, we got to be pushing the ball up," said Matthews.
"They are trying to do that right now, but it's been biting us in the butt because we aren't making good decisions with our passes. But, that will come with time and practice. We have four games under our belt and the same amount of practices. That will come as we progress and get some practices under our belt," said Matthews.
QUEENS COURT: Matthews stepped back into the role of coach for the Queens late, after one season away from the Queens, and after undergoing open-heart surgery back in July.
"They couldn't find anybody and at the last minute, they asked if I could possibly be interested. At that time, I was starting to feel half decent, so I said what the heck. I coached the girls in Grade 12 back when they were in Grade 10, so I jumped in there," said Matthews.