Queens looking for killer instinct
Posted on January 16, 2020 by Vauxhall Advance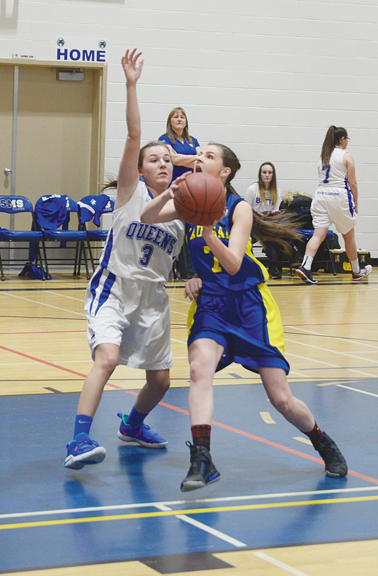 QUEENS' COURT: Kennedy Cawley of the Vauxhall Queens girls basketball team drives to the hoop against the Picture Butte Queens during opening-round play at the St. Mary Auroras Invitational Basketball Tournament. ADVANCE PHOTO BY TREVOR BUSCH
By Greg Price
Vauxhall Advance
gprice@tabertimes.com
If this last week has taught the Vauxhall Queens anything for high school basketball play, it's learning how to finish.
The Queens were at the St. Mary Auroras Invitational Basketball Tournament over the weekend, where the team ended up falling in the bronze-medal game to Matthew Halton in a nine-point loss.
"It was a little bit my fault. I ended up getting tossed from the game," said Allen Matthews, head coach of the Queens, as assistants had to take over coaching duties part way through the game. "I was a little frustrated and I tried to do it in a nice way and it fell on deaf ears and continued to go the way it was. I just felt like you have to protect kids."
The way Matthews perceived things was a Matthew Halton team playing way more physical than the Queens were, yet fouls were lopsided.
"They were pressing and we weren't and we were getting knocked off the ball a lot with no calls. We were going up for lay ups and getting bumped hard with the body," said Matthews of his frustration which eventually led to two technicals and being tossed from the game. "You have to stand up for your kids and I tried to do it the right way at first…it was frustration."
In the Queens' opening game of the tournament, the Queens beat Picture Butte by 15, before losing to St. Mikes by five to be pushed to the third-place game.
"Picture Butte, we played well. We had a hard time finishing and they had a hard time finishing and it was whoever played better defence, which we happened to do," said Matthews. "That has kind of been our Achilles' Heel right now, is scoring and finishing games."
That tendency showed itself when the Queens returned to River Ridge Basketball League play on Tuesday at home, when Vauxhall hosted the Senator Gershaw Gators from Bow Island.
The Queens raced out to a 15-point lead in a dominating three quarters, only to be outscored 24-5 in the final frame to lose the game by four.
"We played a fantastic game for three quarters and we couldn't ask for anymore. But you got to treat every quarter like it's 0-0. They went on a run and we panicked," said Matthews. "We had our turnovers and it was decision-making. Poor shooting and turnovers. We probably had more turnovers in the fourth quarter than we had in the first three."
Matthews added it has been very few times the Queens have been absolutely dominated on the floor, but rather just rough quarters where the team isn't trusting itself.
"More often than not, it is the decisions we are making and not what they are doing," said Matthews. "We are making unforced errors. You get times where nobody wants to shoot being very scared with the ball. We just have to learn from these lessons and not be afraid to lose."
The Queens have the rest of this week off, before heading to Foremost on Tuesday to play in River Ridge Basketball League play.