Vauxhall-area athletes plentiful for Alberta Winter Games
Posted on February 6, 2020 by Vauxhall Advance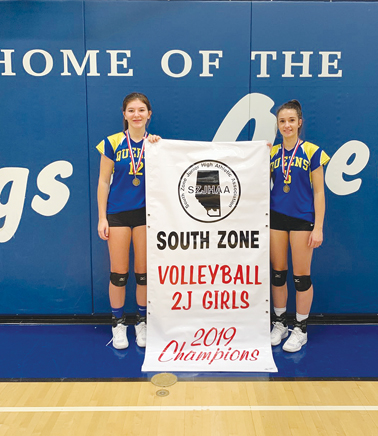 GAMES GALORE: Friends Kourtney Serfas (left) and Dylan Sandau helped deliver a 2J zone banner for Vauxhall in school volleyball, and will be hoping to deliver a medal for its zone volleyball team at the upcoming Alberta Winter Games in Airdrie. ADVANCE PHOTO SUBMITTED
By Greg Price
Vauxhall Advance
gprice@tabertimes.com
The Alberta Winter Games is fast approaching and Vauxhall-area athletes will be well represented.
Adam Vulcano (Grade 10 volleyball), Denise and Mitchell Wesseling (Grade 7 and 9 speed skating), Dylan Sandau (Grade 9 volleyball), Kourtney Serfas (Grade 9 volleyball), David Stewart (Grade 10 volleyball), Brooke McNiven (Grade 7 indoor soccer), and Rhett Serfas (Grade 7 hockey) all qualified to go to the 2020 Alberta Winter Games in Airdrie, which go Feb. 14-17. Abigail Stamp also qualified in skiing, but family confirmed she will not be attending.
"The team in our zone is basically all of southern Alberta. There were two tryouts and then the coaches picked," said Stewart who plays right side in high school volleyball. "I think I'll be able to help the team have a good chance to win being one of the older players on the team. Hopefully, I can bring some leadership. I'm one of the bigger players too as well. I'm a lot better offensively than I am defensively."
Familiar with about half of his zone team, Stewart is hoping the knowledge of each other's skill sets will help speed up the bonding process.
"We've been practising since the end of November. In 2018, a lot of the same players played that year as well," said Stewart. "I'm pretty excited with the opportunity. I'm excited to be able to to go to the Games with all my friends "
Kourtney Serfas plays power and earned a spot on her zone Winter Games team from tryouts in Barnwell, making the cut of about 50 kids for the 12-player roster.
"I just hope we do really good. I bring a positive attitude and some leadership to the team in trying to get a medal," said Serfas, who has plenty of familiarity with all the players on her team. "There are a couple of girls who play on my club team that were on the Zone 1 team (before). I feel really blessed to have the opportunity to follow in their footsteps. I think we will bond together really well, it will be a really good asset to have throughout the games. We only have a limited amount of practices together, so already knowing each other helps. It's going to be a great experience."
Given the number of kids who tried out for Rhett Serfas' zone hockey team for the Alberta Winter games, with Serfas making the cut, he had plenty of competition. Tryouts were in Olds in early December, with 180 kids trying out.
"If you were outside of Calgary, but lived in Red Deer south, you all went to one tryout," said Rhett's father Kevin, who also coaches him on the Taber peewee "AA" Golden Suns team. "It was a three-day process and they evaluated the kids. I think there was 61 kids trying out for defence and they only picked 12 (for two teams). He got selected as a D-man on Zone 2, which is Big Country. The reason they did that was because they were getting some imbalances between the zones. They take these two zones, lump all the kids together and then pick two teams, they did the same with Calgary and Edmonton, and then there is Red Deer north. Overall, players were battling 700-plus kids for 160 spots (in the province)."
Rhett is a top-pairing defenceman for a Taber peewee 'AA' Golden Suns team which is currently running away with the South Division in South Central Alberta Hockey League play with a 31-3-3 record, lighting the lamp with regularity, scoring 145 goals while only surrendering 66. The hulking defenceman is averaging a point a game with eight goals and 17 assists, good enough for fourth-overall on a team full of snipers, while also paying attention in his own end.
"One thing the coaches said to him was his size and skating ability caught their eye. The combination helps. They say you can't teach size. If you can size and mobility at the same time, it helps," said Serfas.