Vikings success continues in Taber tournament
Posted on February 6, 2020 by Vauxhall Advance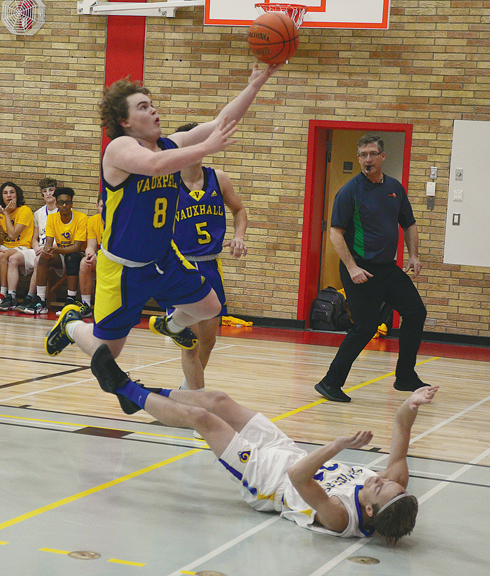 ADVANCE FILE PHOTO
By Greg Price
Vauxhall Advance
gprice@tabertimes.com
There were plenty of positives for the Vauxhall Vikings to draw from in its bronze medal finish at the Rebel Classic in Taber this past weekend.
Besides about a quarter-and-a-half of basketball in the semi-final, Vikings coach Daryl Johnson added his squad played some of its most solid basketball of the year.
The Vikings earned its bronze medal by beating Wetaskiwin by double digits in a late Saturday afternoon game.
"We were up by over 20 and we just rolled everyone around and they came back a little bit. It was a good consistent effort. It was sort of the same story as our first game against Bert Church. We executed and we stuck to our game plan," said Johnson. "We were able to play good basketball. Wetaskiwin more or less was centred around their one big kid. He didn't really shoot the ball, he just wanted to get it anywhere in the paint and drive in."
To counter that the Vikings tried to isolate and focus on the one big threat and have someone else beat them.
"Once we did that, it didn't seem like they had a whole lot of other options. We were fronting him and had the help-side guy right on his back. We made someone else shoot it, or touch the ball and keep it away from him. He seemed to get frustrated and didn't seem super interested to be playing too hard after awhile."
The Vikings were pushed to the bronze-medal game after a tough-luck loss to host W.R. Myers Rebels, in a game the Vikings were firing on all cylinders at first to take a big lead.
"The Myers game we played good for about 25 of the 40 minutes," said Johnson.
Those 25 minutes Johnson spoke of as the Vikings built a lead as high as 23 points part way through the third quarter, when inexplicably, the Vikings stopped doing what was making them so successful.
The Rebels had two of its big men in foul trouble with four fouls each, yet the Vikings chose to settle for long-range pull up jumpers, allowing the Rebels to come back in a hurry.
"We definitely went away from our game plan. They (the Rebels) started hitting a few shots and then all the sudden we decided we had to shoot threes to answer their run," said Johnson. "That didn't work because it didn't make them play any defence. Then they'd come down and it'd be either a foul or a bucket. It was almost one or the other every possession for them in the fourth quarter."
One of those big men for the Rebels, who had four fouls, ended up with 30 points, helping mount the comeback alongside Shawn Harris.
"It was a good learning experience for a couple of players. You have to stick with what is working and not go away from what is working. We did go away from that and it cost us the game," said Johnson. "But I was still happy with the guys beyond that one rough stretch. That's the game you want to play, which is against the hosts in their home gym. We lost one we shouldn't have, but it'll keep the kids hungry and will keep them working."
The Vikings raced out to a big lead against Bert Church in its opening game of the Rebel Classic and never looked back in what Johnson added was one the best games his team has had this season.
"That game was our most complete game so far on both sides of the court. We played some man-to-man defence and we played some zone and both of them looked really good for us," said Johnson.
The Vikings play St. Mary Celtics in a rescheduled River Ridge game on Monday at 6 p.m., with the Vauxhall Queens to follow against St. Mary Auroras at 7:45 p.m.