Curling Club lease saved in 11th hour with emergency meeting
Posted on March 5, 2020 by Vauxhall Advance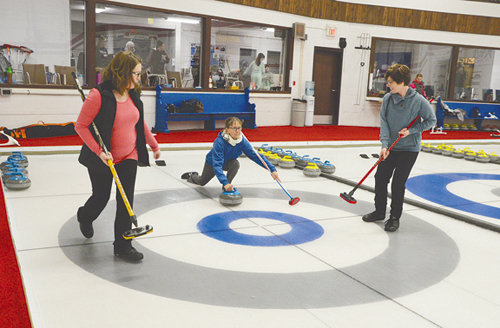 ADVANCE FILE PHOTO
By Cole Parkinson
Vauxhall Advance
cparkinson@tabertimes.com
After months of back and forth between Vauxhall town council and the Vauxhall Curling Club, a new rent agreement has been agreed to by both sides.
After the curling club had requested a special meeting for council last week, councillors and various club members gathered on Feb. 27 to discuss the contract one last time before the previous contract expired.
In an opening remark, Mayor Margaret Plumtree explained why they were meeting.
"We are here today for one reason, this is a special meeting to discuss the curling contract. We are here, not because of the unprofessional behaviours that have been seen on social media up to and including today. We are not here because I was personally threatened by the president of the curling club. We are here because I, the mayor for the Town of Vauxhall and this council have decided to grant you the eleventh-hour reprieve, as your deadline is less than 24 hours away and the curling club is truly dead men walking," she said.
A delegation of two curling club members, Darren Skretting and Lisa Egeland, were allowed to speak on behalf of the club.
One continuous hangup between the two has been around temperatures in the facility.
With council realizing the club wanted to keep temperatures of the ice and within the facility steady at certain temperatures, they shifted their contract to utilities instead of a fixed rent.
The club wanted to have constant ice temperature instead of fluctuation, which they had been experiencing.
"The reason behind that is much like a road, once it goes cold and thaws, how smooth is your road? It's just maintenance. If we maintain a temperature that is steady instead of up and down, the ice is better. I don't know how that will affect the plant but it shouldn't run any more than it going on and off," explained Skretting. "What we would like is 19 degrees (Fahrenheit) in and 20 degrees out and that maintains the ice. It's smooth, it's straight and it's good curling ice."
While the club was okay with paying their utilities, the unknown nature of the cost year to year was a sticking point for the contract.
"You are in control of your expenses. The contract we presented to you initially gives you the building for $1 and you're in control of how much your utilities will be. It could be low or it could be high," said Coun. Kim Cawley.
A separate gas metre is located on the curling rink side but had not been used since the 1990s, according to Egeland.
If they were to proceed with paying utilities, they wanted to have the metre calibrated and verified it was only for the curling rink.
"If we do have the ability to accurately metre utility costs associated with curling, so is are no disputing what costs are attributable to the curling operation, do you have a problem with paying 100 per cent of those costs?" asked Coun. Richard Phillips, which the club then asked about constant temperature "That's where we were coming from with this. It seemed like the temperature requirements you are wanting may, in fact, lead to greatly increased utility costs and that is what we were not comfortable agreeing to a fixed rate. Knock yourselves out with the temperature if you are willing to pay for it."
A fixed cost of $25,000 was offered by the club as an option for the contract moving forward instead of utility costs.
"I believe $25,000 is a very fair offer based on the allocation in the past," said Egeland. "A fixed cost is much easier for us to budget for."
Following the curling club's meeting on Feb. 24, a petition was created and over 1,000 signatures were acquired.
There was also a sizeable social media contribution that further put negotiations in the spotlight.
Coun. Cawley read a prepared statement addressed to the Vauxhall Curling Club highlighting issues she had with the club's actions before council's special meeting.
"The social media storm created by the Vauxhall Curling Club board, members and staff was both shocking and disgusting. It was extremely disappointing to see a few people lead a mob of community members to say such nasty things by misleading and making uneducated statements and accusations against the town. Your very own staff member accused our trained and ticketed ice plant operator as lacking knowledge and he suggested all rural curlers should stop supporting the baseball academy and businesses in the town of Vauxhall. Your board members accused council of not having business sense and needing business 101 and for a final insult, you had a letter signed by community members which states this council lacks support, honesty and integrity. This council, administration and staff work very hard to make this town a better place to live and work, whether you choose to see that or not. We are currently working together with community members and businesses to upgrade our community centre and to plan the centennial celebration. I hope your public actions on social media have not jeopardized opportunities that will see people visiting our wonderful community to celebrate 100 years. Your words and actions should not be taken lightly and they set a poor example of community spirit and a willingness to work together. You have attempted to make a mockery out of town council and staff and for that, I believe you owe us a public apology," read the letter.
Discussion then went into closed session which lasted for 51 minutes.
A motion was carried out of closed session to extend the existing contract to March 31 with the new contract taking affect April 1, 2020, until March 31, 2025.
While a member of the curling club did thank council, no apologies were made.
The new contract states the club agrees to accept the facility as is and no major changes will take place without written approval from the town.
Any alterations or additions to the structure including walls, building additions, mechanical equipment, plumbing, electrical, fixtures and carpeting shall become the property of the town.
The town will also maintain utility lines and be responsible for upkeep of structure (roof, main walls, external windows, doors/floors, lobby furnace, hot water tank, brine lines, brine/ice plant).
The town will also provide electric, natural gas, water and sewer utility services and they will operate the ice plant and attempt to maintain a curling slab temperature of 23 to 21 Fahrenheit.
The club will be responsible for maintenance of curling ice, providing and maintaining movable equipment to operate the facility, and maintain an air temperature below seven degrees Celsius.
The lease payment is $1 plus GST and the club pays all utilities associated with the operation of the curling rink which is power and natural gas from the designated curling meter.
The club also agrees to pay power during the curling season as charged on the arena ice plant meter at a ratio calculated by comparing brine pump hours between the curling and skating rink.
As per the agreement, the town may enter the facility or its agents may enter the property without prior notification for an emergency, utility inspection and repair purposes, with the exception of scheduled maintenance and repairs.
A formal notice shall be given for scheduled maintenance and repairs.