Vikings looking to turn tables on Celtics in River Ridge
Posted on March 5, 2020 by Vauxhall Advance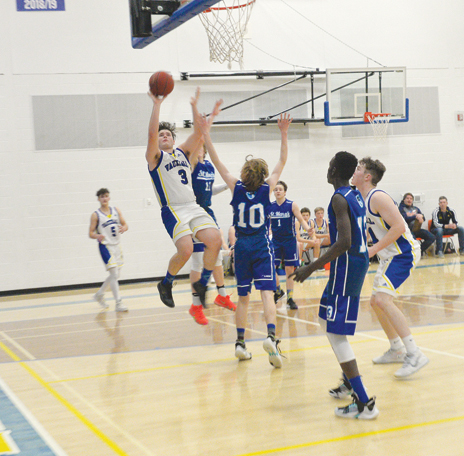 ADVANCE FILE PHOTO
By Greg Price
Vauxhall Advance
gprice@tabertimes.com
The St. Mary Celtics have been a thorn in the side of the Vauxhall Vikings boys basketball team this season.
The Vikings will look to remove that thorn today when it hosts the Celtics in the River Ridge Basketball League championship final.
Coming off a semifinal win where the Vikings torched Bow Island for 100 points, the Vikings now face off against a team that has had its number — at least in River Ridge play.
"They've beat us twice in league and we beat them once in a tournament, so they have the upper hand," said Daryl Johnson, head coach of the Vauxhall Vikings boys basketball team. "They've just outworked us both times we've lost. We show up, but don't put in the work and they get way ahead. We made it a game both times, but we've got to come out ready to go and play tough from the get go, and not wait until the third or fourth quarter to get our game going."
Johnson has seen the Vikings get dominated on the boards both times in its River Ridge Basketball regular season losses to the Celtics.
Also, team ball management has suffered, the team is turning it over way too much to Johnson's liking.
"Both times we've lost, they've out rebounded us immensely. That is number one, we have to control the glass, and limit our turnovers. For some reason, we've been pretty good at that preety much all season, but against (St. Mary), we try and hurry things and throw really bad passes causing turnovers," said Johnson.
The Vikings will host the Celtics today at 7:30 p.m. in its home gym. Not only will there be a revenge factor for the Vikings at stake, but also a much-needed boost of confidence heading into 2A zones in Lethbridge the following week if the team can garner the win.
"You have to get that win to get you on the right track. They have been a team that has been a bur in our saddle, and you have to get it going to show you can beat them. Otherwise, the zone tournament can go quickly and you'll be sent home on the first day," said Johnson.
The Vikings go into 2A zones as the No. 5 seed and play Willow Creek next Thursday at 8:30 p.m. at Lethbridge College.