Vikings turn tables on Celtics
Posted on March 12, 2020 by Vauxhall Advance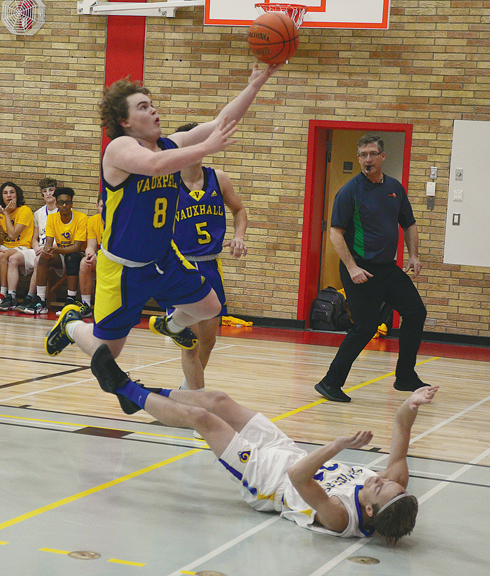 ADVANCE FILE PHOTO
By Greg Price
Vauxhall Advance
gprice@tabertimes.com
The Vauxhall Vikings boys basketball team got the boost of confidence they needed by being crowned River Ridge Basketball League champions last week, vanquishing a familiar foe who previously was getting the upper hand.
The Vikings squared off against St. Mary's Celtics, a team which had previously swept the home-and-home league series between the two. The Vikings did manage to beat the Celtics in tournament play and were able to push its record to .500 against the Celtics with a convincing 101-68 victory in the River Ridge championship at home.
"We finally put together an effort that we could be a little more proud of, playing a full game," said Daryl Johnson, head coach of the Vauxhall Vikings boys basketball team. "We moved the ball well, we guarded them very well. It was a great team effort with a lot of guys getting rotated in. It was a great feeling to have getting ready for zones."
They say you want to go into March Madness (2A South Zones) with momentum, and the Vikings did just that, clearing the mental hurdle of the Celtics which the team had struggled with previously, thanks to a phenomenal game by Carlin Dick.
"He had a whale of a game for us. He stepped up and hit seven threes and shot the ball well and was a great leader for us," said Johnson. "He has been working really hard in the gym and it's good to see him get rewarded for that."
The Vikings go in as the No. 5 seed into zones, playing Willow Creek today at 8:30 p.m. at Lethbridge College. St. Mary's goes in as the No. 2 seed showing the zone can perhaps be anyone's game.
"We did play Willow Creek at Kate Andrews way early in the year in that tournament and we beat them. It was a close game, it was anyone's game," said Johnson. "The zone seeding I think is kind of weird, but it is what it is. It's a great test for both of us right off the bat and whoever wins that game I think has a pretty good chance at zones."
If the Vikings manage to win today's game, they would meet the winner of the Immanuel Christian/County Central game at 8:40 p.m. on Friday night at Lethbridge College. Zone championship and the bronze-medal game both go at 6 p.m. on Saturday.
Johnson added the Vikings have enjoyed the atmosphere of zones at Lethbridge College over the years.
"(Spacially), it doesn't matter too much being the bigger gym. But, we are on the 'B' court which is almost a better atmosphere because the fans are right basically next to the court. They are right on you," said Johnson. "When you are on the 'A' court the fans are way back, where it's not quite like a normal tournament setting. The 'B' court is really fun. The fans are right there and it is loud. The kids are looking forward to it. Hopefully we can play some good basketball, get through Thursday and see what happens."