Vauxhall Spurs continue to warm up after slow start to exhibition season
Posted on July 9, 2020 by Vauxhall Advance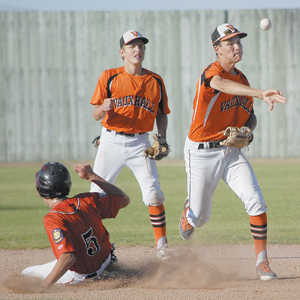 ADVANCE FILE PHOTO
By Cole Parkinson
Vauxhall Advance
cparkinson@tabertimes.com
The crack of the bat can finally be heard in Vauxhall after a delayed start to the baseball season.
While the normal American Legion Baseball season was cancelled due to the COVID-19 pandemic, the Vauxhall Spurs have set an exhibition schedule throughout the summer against the Medicine Hat Monarchs and Medicine Hat Knights.
The abbreviated season includes doubleheaders for the Spurs against each of the Medicine Hat teams on each Saturday and Sunday until Aug. 2 with alternation of games in Vauxhall and Medicine Hat.
So far, the Spurs have hit the field six times, with games against the Medicine Hat clubs with the schedule starting on June 27.
Last weekend, the Spurs had a tough opening day where they lost 14-1 against the Monarchs and 9-5 against the Knights and the second day of action was rained out.
With pitching a main focus for early starts to the season, head coach Ken Fuglerud explained that guys were able to get into the bullpen quite a bit before games actually started and when they did get to the bump in game action, coaches were keeping close attention.
"That first weekend we had a self-imposed pitch limit," he said.
While the first weekend the team experienced what Fuglerud described as "growing pains", the second weekend of action saw a notable shift in production on the offensive side of the ball. The first action on Saturday at Jets Stadium saw a slugfest between the Spurs and Monarchs with Medicine Hat walking away with a 23-16 win.
The second of the double header was a much closer affair as the Spurs overcame the Knights 10-8.
Heading to Medicine Hat for a Sunday matinee, the Spurs would come back home with smiles on their faces as they would defeat the Monarchs 15-10 and wrapped up the day with a 13-3 win over the Knights.
"This past weekend was better," continued Fuglerud. "We got into better patterns and were able to locate pitches around the dish. The kids are just getting more comfortable."
Next home game for the Spurs comes on July 12 with the first game against the Knights and first pitch at noon.
The second of the doubleheader sees the Spurs face off against the Monarchs with first pitch tentatively set for 2:30 p.m.
Other home games for the exhibition Spurs season come on July 18, July 25 and August 2, with all being doubleheaders starting at noon.
This year's roster includes Simon Virostek (pitcher/outfield), Levi Abbott (pitcher), Eric Reiling (pitcher/outfield), Blake Kondor (pitcher/infield), Carson Cleland (infield), Pierce Dunsmore (pitcher/infield), Alonso Tapia (pitcher/infield), Kaden Liboiron (infield), Aaron Vulcano (pitcher/infield/outfield), Dallas Cummins (pitcher/outfield), Adam Vulcano (pitcher/catcher/outfield), Johnny Vulcano (pitcher/infield), Tyson Johnson (pitcher/outfield), Jaxxon Pavka (pitcher/infield), Caleb Anderson (pitcher/catcher/infield), Peyton Howell and Zak Vikedal.
Fuglerud is joined by Jimmy Vulcano, Liam Vulcano and Ty Penner as the assistant coaches.