Spurs' bats continue to heat up in July
Posted on July 16, 2020 by Vauxhall Advance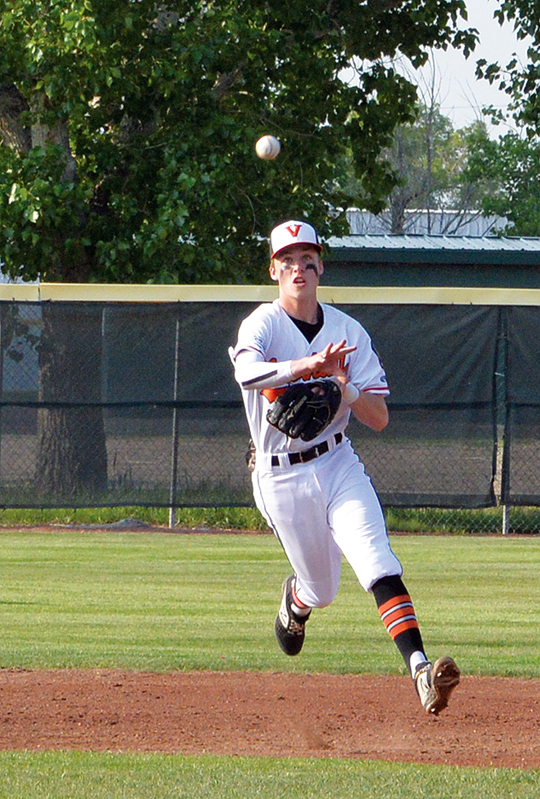 ADVANCE FILE PHOTO
By Cole Parkinson
Vauxhall Advance
cparkinson@tabertimes.com
While the Vauxhall Spurs were slow out of blocks in the first few games of the season, the team has been red hot ever since.
Despite losing the first three games of their exhibition season, the Spurs rattled off the next three wins to wrap up last weekend and their bats didn't slow down over this past weekend of action.
Heading to Medicine Hat on Saturday, the Spurs offence was on full display as they knocked in over 20 runs in a 21-8 shellacking of the Knights.
The Spurs' bats were off and running in the second of the doubleheader as well when they brought in another 16 runs against the Monarchs winning 16-7.
Sunday afternoon, the Spurs were back home at Jets Stadium where they walked off the Knights with a 6-5 win in the first game before taking a 7-2 decision against the Monarchs in the last game of the weekend.
"We've been swinging it really well here recently. We got a couple of guys back this weekend and I feel like we're getting better each week, which is the most important thing. As we add to our game each week, a lot of credit has to be given to the boys. They are starting to execute really well and we're starting to come together. It helps when you put up 15 runs a game," explained Ken Fuglerud, Spurs head coach.
With 50 runs scored over four games, the Spurs coaching staff a had long list of standout performers at the dish.
"Aaron Vulcano had his first games of the year this weekend and he started off the year with six straight hits, that helps. Blake Kondor is on a tear for us, he's hitting .567 on the year. He hit another home run on the weekend. Tyson Johnson has been an RBI machine for us and I think he has, through 10 games, 14 RBI. He is producing for us. Adam Vulcano hit a home run on the weekend against the Monarchs. We have lots of guys on our team hitting right now. Our team batting average is .317 and after week one, our team batting average was .143. In the course of eight games we have gone up almost .200," continued Fuglerud.
Pitching-wise, the group has seen better consistency in finding the strike zone and making opposing batters get on by having to swing the bat.
While the influx of runs is a nice touch, Fuglerud and his coaching staff have been impressed by the adjustments their pitchers have made over the past several weeks.
"Our biggest concern, especially early in the first couple of weekends, were the freebies we were giving out including walks and hit by pitches. Even giving up a single and following it up with a wild pitch or pass ball and he advances freely to second or third base. We are becoming a lot cleaner on the mound and we're issuing less free passes and making guys earn it. We are holding runners infinitely better than we were before. If a team is going to beat us, they will have to earn it more than they were during the first little while," he explained. "Levi Abbott in the game (Sunday) threw a complete-game two-hitter with 11 strikeouts so that helps. Dallas Cummins threw a really good game where he started against the Monarchs in Med Hat on Saturday and Aaron Vulcano came in relief and ended up picking up the win. Both threw really well. In the other games, Kondor, despite having a bit of a banged-up body, he came out and threw pretty well for us. Alonso Tapia threw really well too. We're starting to see a lot of guys becoming more comfortable on the mound."
The availability of practice time has given the Spurs a chance to get to work on some of the deficiencies that were present in the first several games both offensively and defensively.
"We're going twice a week, Tuesday/Thursday since the start of June. Two practices a week isn't a lot by any means but it's been enough for our boys to adjust to the increased level of ball we're seeing, it's a good thing as a coach. To come out of the gates and get your butts whooped twice and you're about to get your butt whooped a third time and then we follow it up with nine straight wins. We're seeing the results pay off now," continued Fuglerud.
Seeing the big improvements made by the players over several weeks has been a great sign for the coaching staff but it also leaves a little to be desired in terms of the actual season schedule.
Due to the COVID-19 pandemic, the cancellation of the American Legion has left the Spurs without the chance to defend their state championship.
With how the team has played over the past two weekends, the coaching staff, players and parents are a little disappointed there is no option to play a regular season, though they have noted they are just happy to be back at the ballpark regardless of how things have shaken out.
"We've had some good compliments paid to us and people have come up talking to us how it is too bad there is no season. Just watching us, an A Legion team, competition pretty well against a AA team. (It's unfortunate) we don't get to try to repeat as state champs," said Fuglerud.
The Spurs are back home for another doubleheader on Saturday afternoon with first pitch against the Monarchs at noon at Jets Stadium with the game against the Knights to follow.