VAB Jets continue fall season with a doubleheader in Vauxhall
Posted on October 1, 2020 by Vauxhall Advance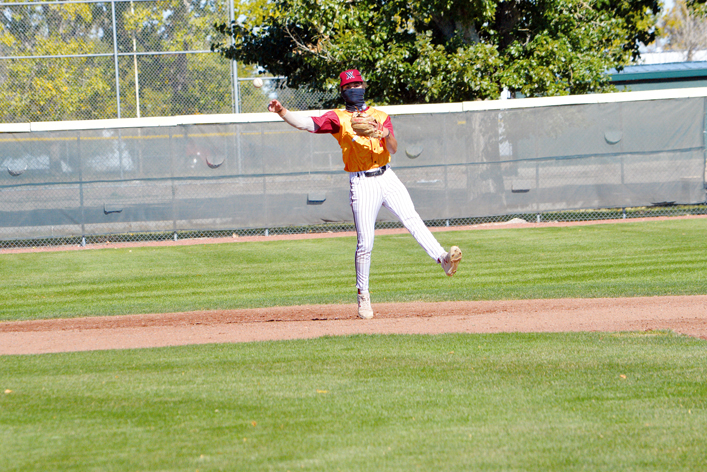 ADVANCE FILE PHOTO
By Cole Parkinson
Vauxhall Advance
cparkinson@tabertimes.com
The Vauxhall Academy of Baseball Jets finally hit the field at Jets Stadium this past weekend after playing several games in Lethbridge.
While the team had home-field advantage, they were unable to hold onto a few leads during their doubleheader on Sunday afternoon against the Prairie Baseball Academy from Lethbridge.
"We lost both games 8-6. You know, overall we started a little slow in the first game, we took the lead and blew it late. The second game we took an early lead and then gave it up but overall we had some guys have a good offensive day. We pitched pretty good at times. Probably the best part of the weekend was we played solid defence. All in all, we were playing against some college players and we played okay. It was a beautiful day and it was great to get out at Jets Stadium," said Jets head coach Les McTavish.
While teams want to win games, the Jets coaching staff don't see wins and losses as the be all end all of the fall season. As many players are just getting their first taste of academy ball, player development is the biggest key take away from the early parts of every Jets season.
"The fall, it's really not about wins and losses. Sure, we want to win the games but we don't let pitching, our lineup or our defensive structure really support that. We want to win more games and if we're fortunate enough to get to play over the next three weekends, it would be nice to be more competitive and win some games but all in all, it's about trying to get better every week in the fall and trying to build towards a good, solid spring," continued McTavish. 
One of the bigger ways of analyzing players in the sport of baseball has shifted to advanced analytics ever since the Oakland Athletics popularized the "Moneyball" phenomena in the early 2000s.
Considering the implementation of further analytic data throughout the years in the game of baseball, the Jets also have done their best to try to keep up with the technology to further help get their players ready for careers past Vauxhall.
"We don't maybe do as much as some other programs do. We do look at more quality at-bats compared to batting average and there is a bunch of things that go into quality at-bats. We do it two or three times a year with Rapsodo (analytic service). Last year we did it twice and it's extremely expensive so we bring in people to help us. It can be between $10,000-$15,000 just to get started and that's for hitting and pitching. Certainly, it's something we'd like to dabble more in to but it's more about money than anything," said McTavish.
Speaking of player development, two Jets players went east to Boston to play in Fenway Park as part of the New Balance Future Stars Series where United States players take on a square of players from all over the world. 
"Jackson Clemett and Anson Gorman, Anson is a right-handed pitcher and he pitched the back part of the second game on Friday night at Fenway Park. He threw the ball pretty good and that's a great experience to face some of the best hitters in the United States. Jackson Clemett, he started game two and came off the bench in game one and three. He had a really good last day, he didn't get any hits but he lined out twice and made a highlight-reel catch out in center field. That's a pretty cool experience at the New Balance Future Star Series at Fenway. Both kids did great and represented our program very well."