Rock you like a Hurricane of memories
Posted on March 12, 2020 by Vauxhall Advance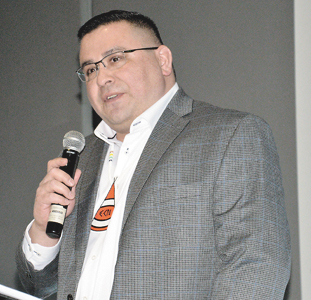 HURRICANE FORCE: Shane Peacock gives a heart-felt acceptance speech at the Wall of Honour induction ceremony at the Canadian Western Bank Lounge at the Enmax Centre. ADVANCE PHOTO BY GREG PRICE
By Greg Price
Vauxhall Advance
gprice@tabertimes.com
It was interesting to get a first-hand look at some of the inner-workings of the Lethbridge Hurricanes organization while I covered my brother-in-laws induction into the Wall of Honour last month.
Sort of serving as Shane Peacock's 'entourage', (i.e. personal driver so my sister could use their car for their kids), it was a weekend as a chance to bond with my brother-in-law while also getting to schmooze with some of the movers and shakers in the Lethbridge Hurricanes organization both past and present.
Sharing a couple of beers with some of his former teammates and front office staff the night before his induction, while it was a trip down memory lane for Shane, the fantastic experience was almost like I was getting inducted with how close I got to the action. Being Peacock's personal paparazzi, I was able to get into luxury boxes, get onto centre ice, tour dressing rooms and walk the hallowed halls seeing all the Hurricanes history both past and present over the induction weekend.
There were some emotional pauses during Peacock's acceptance speech where even I caught myself asking 'where is this salty discharge coming from?," swept up into the moment. That was when I realized for these guys, while Peacock and fellow inductee Byron Ritchie dominated some of the Hurricanes record books to earn their induction into the Wall of Honour, their time in Lethbridge far bypassed the goals, assists and wins they helped the Hurricanes achieve with how special the time was for them.
What often gets lost in the translation as we watch elite level Western Hockey League players is these guys are still kids. It is some of the most critical development years of their lives in their transition into manhood, and they are doing it under the glare of thousands of hockey fans day in and day out. All most likely without the support of a family unit that is many kilometres away. Their journey may include turning it into a profession playing hockey professionally, or at least use their WHL experience to pay for post-secondary schooling, but these are still teenagers being teenagers. That journey included still being in good standing at their respective high school, having billets serve as their surrogate parents, battling raging hormones, all while still keeping up an air of professionalism with differing personalities on the team, while playing for a hockey organization with plenty of financial backing.
That is why I split the coverage into two separate stories as while the induction highlighted Peacock and Ritchie's utter dominance in the WHL, it was all done when they were figuring out who they were.
There was a prolonged chat I had with one of my brother-in-law's former billets, where I jokingly asked if my sister was (his future bride that he met in Lethbridge), ever snuck out of his place late at night. I have no idea if the story is true, but I heard my brother-in-law hid that he was a hockey player (with some of the womanizing reputations some players have), from my sister for a while for fear of the courtship being ended early.
Peacock and Ritchie got to see the latest generation of Hurricanes up close and personal in a pre-game chat against the Brandon Wheat Kings as they told them to treasure their times together. Although the duo's contributions to the organization dated back to the early 90s' there were still plenty of those fans and now their children, lining up for autographs and pictures far after the induction ceremony game was over. One fan even showcased a jersey she had of Peacock that she had when she was three years old that she still had today.
Those are the moments, both as a fan and a player where the game itself resonates through time in how a big of an impact it can really be. My nieces and nephew didn't really get to see the full impact hockey had on their father's life with he and my sister starting a family later in life, with my oldest niece being just into double digits in age. But with how wide eyed they all were when they walked to centre ice with their father to the applause of fans in a packed house at the Enmax Centre, and hearing their father's acceptance speech, they were beaming with pride on what the game provided for them. I jokingly asked my niece and nephew if they would like to be interviewed, which they bashfully declined even though I prepped what questions may be asked of them. I don't really think they could fathom that their Dad was dominating WHL record books not being much older than they currently are.
Drafted by the Pittsburgh Penguins in the third-round of his draft-eligible year, breaking into the NHL is not an easy task of those of First Nations, Metis or Inuit. According to a New York Times article from June of 2018, of the more of 100 years of NHL history, only about 80 players have been of indigenous heritage. But players like my bother-in-law, Jordin Tootoo and current NHLers like T.J. Oshie, and Ethan Bear etc, have all helped peak interest in playing hockey on various reserves in Canada, where my niece and nephew have got bit by the hockey bug with my brother-in-law also coaching in giving back to the game. Peacock recounted in his Wall of Honour speech how there would be fan buses from his Enoch reserve that would make the many-toured break just to see him play for the Lethbridge Hurricanes.
My brother in-law's Wall of Honour induction ceremony was not just a celebration of hockey, but life itself. Lives well lived with hockey at its foundation. I know it is a weekend my brother-in-law will never forget and it was definitely an eye opener for me to really see how big of an impact he had on the Lethbridge Hurricanes franchise in putting it on the map.