Spring into further education for 2015
Posted on January 12, 2015 by Vauxhall Advance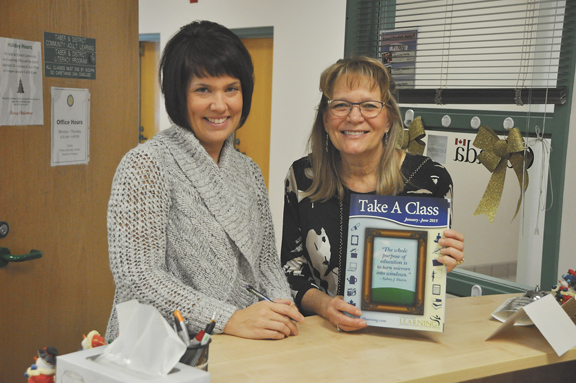 ADVANCE FILE PHOTO
By Trevor Busch
Vauxhall Advance
tbusch@tabertimes.com
The Taber and District Community Adult Learning Association's (TDCALA) spring Take A Class course offerings booklet has arrived, and the association is encouraging community members to enhance their learning in 2015.
In the new year, TDCALA is taking a focused interest in providing course offerings that allow individuals interested in the trades to improve on their skill sets with an eye towards further post-secondary or other training in respective fields.
"We're finding there's a lot of people interested in the trades, that maybe they don't have the skills, or don't feel they have the skills to pass the entrance exam and get into college," said TDCALA executive director Jane Brenner.
"So we're doing a class preparing for the welding trade. It's being taught by a Lethbridge College instructor, and it's especially to prepare young men and women that want to enter the welding trade with the basic literacy and math skills to pass the entrance exam."
Classes offered for employment enhancement include Alberta Payroll Regulations; Bookkeeping Basics, C.S.T.C (Construction Safety Training System); Intermediate/Advanced Microsoft Excel 2013; Intermediate/Advanced Microsoft Word 2013; Intermediate/Advanced QuickBooks; Introduction to Microsoft Excel 2013; Introduction to QuickBooks; Introduction to Microsoft Word 2013; Master Electrician; Introduction to Microsoft Access 2013; Gel or Acrylic Nail Technology; Alberta Basic Security Training Online; Introduction to Sage 50; Small Business Entrepreneurship; Welding; and Introduction to Windows 8.
"Taber is a learning community," said Brenner. "We put close to a thousand people through programs every year. And we find that in some cases, people travel from Lethbridge to attend the Taber courses, because they're not being offered in Lethbridge, or maybe they meet their schedule better."
Courses offered under community issues include What Every Babysitter Should Know; Community Engagement and Consultation; iPad for Facebook for Seniors 55+; iPad for Seniors 55+; Canadian Non-Restricted Firearms Safety Course; Policies, Procedures and Bylaws; Recruiting Effective Board Members; Canadian Restricted Firearms Safety Course; Senior's Computer Tour; Being an Executor; An Enduring Power of Attorney; Grandparents, Grandchildren and the Law; Looking After Dependent Parents; Non-Profit Organizations and Law; Residential Tenancies; and Separation and Divorce.
"One of the things we're finding — especially this time of year — is a lot of seniors get iPads for Christmas, or they get an iPhone or something," said Brenner.
"And so we're doing some classes for seniors 55 and older to help them with technology, to stay connected with their family, and to their friends. We have offered it in the past, but we are finding there's a lot of demand for it."
Offerings under community interests include 30 Minute Meals; Investment Planning Simplified; Introduction to Lightroom 5; Beginners Line Dancing; Paverpol: Beginner, Intermediate, Tall Birds, Canvas; Personal Insurance Simplified; Photoshop Elements 12; Retirement Simplified; Saturday Morning Yoga; Sewing Basics; Speed Spanish; Spring Wreath; Tabata; Tai Chi; Write that Book and Get it Published; Yoga for Youth; Vinyasa Flow Yoga; Yoga for Beginners; and Zumba.
"In January, everyone is making fitness resolutions, and we find that this is the time of year when everybody registers in fitness classes, to help them through the winter months when they can't really get outside," said Brenner.
Literacy and English as a Second Language offerings include Seniors (55+) iPad Tutor; I Own a Computer…Now What?; Preparing for the CELPIP; Advanced Writing for Work and Tests; Advanced Reading Comprehension for Tests; and Basic English Classes.
In Vauxhall, course offerings will also include What Every Babysitter Should Know; Basic English Classes; iPads for Seniors (55+); Canadian Non-Restricted Firearms Safety Course; and Vinyasa Flow Yoga.
TDCALA continues to offer free resume writing services with resume coaches by drop in or appointment at the association's main office in the Provincial Building from Tuesday to Thursday from 9-4 p.m.
Brenner indicated community adult learning in the province is taking a new direction for 2015 based on guidelines handed down by the provincial government.
"All of the community adult learning programs in the province are going to have a new focus. We just had new guidelines come out for the province. Community adult learning programs are funded in part by Innovation and Advanced Education, and those guidelines are going to be in the form of enhancing access and participation of adults and learning, particularly those adults with barriers to learning, increase literacy and essential foundation skills of adults, and strengthen pathways and successful transitions for adult learners."
On Feb. 6, TDCALA will be hosting and facilitating a community dialogue, Creating a Vibrant Learning Community, focusing discussion on adult education, community education, primary/secondary education, and preschool education.
"As with all government programs now, everyone is wanting to do community engagements," said Brenner. "We're going to do one on education on Feb. 6. We want to bring a number of stakeholders together that have an interest in education."
The event will be from 8 a.m.-1 p.m., with lunch provided, at the Heritage Inn. Interested participants can RSVP by phone at 403-223-1169 or email at projects@taberadultlearning.com.
TDCALA's office hours are Monday-Thursday, 9-4:30 p.m. Interested participants of any class offering can register online (VISA/Mastercard) at http://www.taberadultlearning.com, by phone (VISA/Mastercard) at 403-223-1169, in person (via debit, cash, cheque, or VISA/Mastercard), or by mail at Taber and District Community Adult Learning Association, Box 20, Provincial Building, 5011 49th Avenue, Taber, AB, T1G-1V9.
"People should try to register at least one week before the program starts. They're not registered until they've paid,"said Brenner.