Fire chief stresses efficiency with plans
Posted on January 15, 2015 by Vauxhall Advance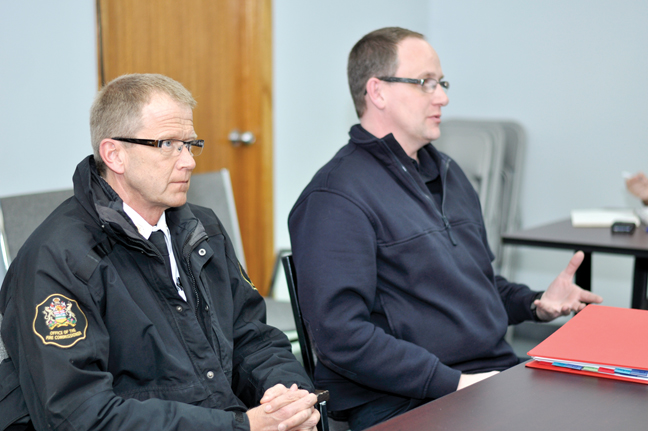 By J.W. Schnarr
Vauxhall Advance
jwschnarr@tabertimes.com
Two Quality Management Plans is one too many, according to Vauxhall's fire chief and the office of the fire commissioner.
During their regular meeting on Jan. 5, Vauxhall fire chief Brian Schafer and Assistant Fire Commissioner Jacen Abrey appeared as a delegation before council to discuss a joint plan for regional fire coverage. Schafer said the amount of work generated by having individual plans is something which should be addressed as an issue of efficiency.
Currently Vauxhall has its own plan, which means calls responded to in town follow one plan while calls responded to in the Municipal District of Taber fall under another plan. It creates an issue where two sets of paperwork need to be filled out, under different guidelines for each plan.
Schafer said since Vauxhall and M.D. emergency services each have their own separate plans, VRFD has two audits every year. He said a single management plan covering both services would cut down the unnecessary audit.
"Anything I do for the town is supposed to come (to town hall) to be stored, while anything I do for the M.D. has to go to the M.D. to be stored," he said.
Schafer said the issue is further complicated by how each plan has its own guidelines involved, meaning there are different ways of storage and retention of information for each agreement.
He noted the issue had been covered previously but was stalled out at the administrative level with the Town of Vauxhall.
"Out last plan was from 1995," he said.
"(Abrey) and I sat down in 2010 and got it all done up and sent it in to the previous CAO, but it was never brought to council. So that's what we're here to fix."
An issue with having their own plan is that Vauxhall's safety codes officer has no help with regards to investigations and fire inspections, making it difficult for Schafer to take any time off and nearly impossible for him to leave the area for any length of time, say on a vacation.
"The Town of Vauxhall has one safety codes officer designated to inspections and investigations," Abrey said.
"So if he leaves on vacation for two weeks, there's nobody to do the investigation if there's a fire.
"On a joint quality management plan, everybody on that QMP can come in and do that work in place of Brian being absent for his vacation.
"It does benefit both sides back and forth," he added.
Schafer said adopting a new plan gives the opportunity for the fire department to make changes to how inspections are handled, as well as any other issues which need to be addressed.
"You can lay out your schedules for how you're going to do your inspections," he said. "The corner store might only need to be inspected every two years. But the major occupancies like schools and seniors should be done on an annual basis."
Adopting the plan would also force some changes to local bylaws and policies, something Schafer said he was already in the process of identifying.
"I've got a whole list of stuff that needs to be changed, as far as bylaws and stuff," he said. "It's kind of easier to put Vauxhall's plan aside and go with the joint plan."