M.D. reeve throwing his hat into the ring for PC nomination
Posted on January 29, 2015 by Vauxhall Advance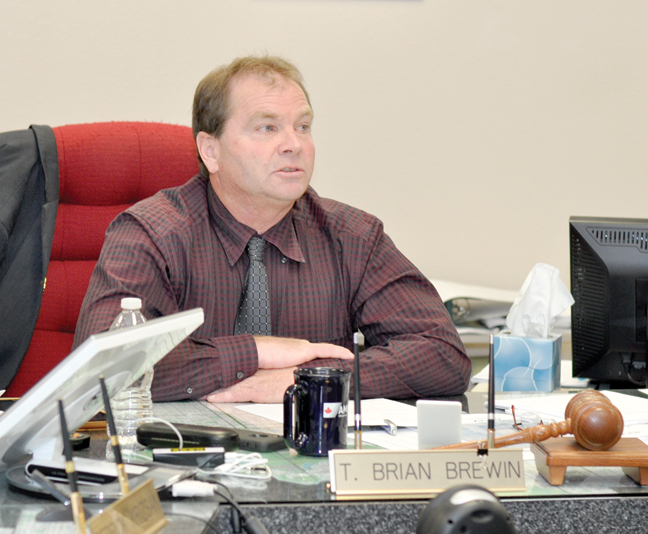 ADVANCE FILE PHOTO.
By Greg Price
Vauxhall Advance
gprice@tabertimes.com
It is a political nomination campaign that has been 27 years in the making.
Having attended the Progressive Conservative Association of Alberta annual meeting all those years ago, on Monday, Municipal District of Taber Reeve Brian Brewin announced he will be seeking the PC nomination for Cardston-Taber-Warner for the upcoming 2016 election.
As of Monday, 57 of the 87 ridings have had the call for nominations, although Cardston-Taber-Warner was not one of them.
"Because of the size of this riding, I wanted to get out early, because I have a lot of people to visit and areas to go see," said Brewin, who has been a fixture on M.D. of Taber council since the late '1990s, rising to reeve the last two terms.
As of Monday, it will be a two-horse race for the PC nomination as current Cardston-Taber-Warner MLA Gary Bikman has also announced he will be seeking re-election under the PC banner, having crossed the floor from the Wildrose Party in late December.
"I'm at a point in my life, my kids are grown and I can do it. My wife Deb has been very supportive of this and we had some long and hard discussions," said Brewin. "I won't lie to you. It was something I wouldn't have done a year-and-a-half ago with my PC loyalty along with a lot of people wondering where the party was going."
But Brewin's passion for PC was renewed after going to the convention this past fall and listening to Premier Jim Prentice, and having an opportunity to sit at the throne speech and again at an Alberta Municipal Districts and Counties Conference, Brewin felt the party was going in the right direction once again.
"I see more excitement and support in that party than I've probably ever seen as part of the party," said Brewin.
"That's when I decided, this is someone who I share their beliefs and I share his work philosophy. You listen and you do what the people ask."
Brewin stressed it was a decision he made before Bikman's floor crossing to the PC party.
"It (the crossing), may have complicated things a bit, but it's not the reason why I did this. This was something I decided on awhile ago," said Brewin. "The fact his (Prentice) first bill was a property rights bill got my attention. It has been a sore spot of mine for years and it's important to have someone at the table discussing it. There are still some other sections that need to be adjusted."
Looking upon Brewin's election Web site at http://www.votebrewin.ca, you will see platforms of efficiency and accountability within government bureaucracy, long-term priorities for infrastructure, less reliance of budgets dictated by energy prices, innovation in agriculture, additional options in education like trade schools, a higher priority on prevention services, and adequate services and facilities for seniors and long-term funding for municipalities.
"Agriculture is my heart and soul and it's what I know. With our family roots and our seniors, our grandfathers came and walked across the bald prairie to build this province and you have to respect that. Grandfather built the first hospital and we're complaining about pot holes and they didn't even have a hospital. You have to admire that ambition," said Brewin, on the importance of the province looking after its seniors.
"I am on a committee with the home schoolers, trying to look at different options to make sure kids stay in school. Not everyone wants to go to university. A lot of kids want to go off and be a carpenter or a plumber and it's a good salary. We need to explore that a little more, if you're young and that's you ambition, lets work into that and make sure there are opportunities."
Seeking the PC nomination, it will be a matter of selling memberships with card-carrying members in the Cardston-Taber-Warner voting for who they want representing the party in the riding come the next election when the nomination is called.
Getting out and being seen, Brewin made his intentions known to his fellow M.D. councillors at its Tuesday meeting, before venturing out to Raymond the same day.
"I want to make sure represent this constituency as a whole and there is no area that is more important than another. I know I have some work to do out in the Cardston area simply because I'm not know there," said Brewin.
"It is my intention to be out there as much as I can. Anyone who would like me to be involved in an event, feel free to call me and I'll make every effort to be there."
Along with his Web site at http://www.votebrewin.ca, there are links to his Facebook page and Twitter.
M.D. council passed a resolution, noting Brewin's campaigining for the PC nomination for the Cardston-Taber-Warner will not interfere with his duties as reeve.