Camp teaching kids about farm safety
Posted on July 2, 2015 by Vauxhall Advance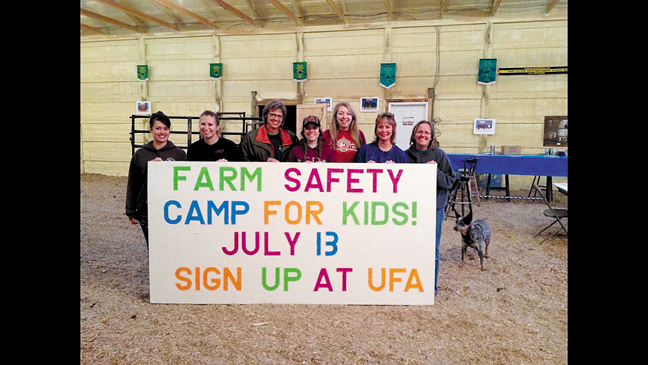 By Greg Price
Vauxhall Advance
gprice@tabertimes.com
With agriculture being one of the main economic drivers of southern Alberta, several concerned groups are making sure that drive is a safe one.
On Monday, July 13, there will be a Rural Farm Safety Day Camp held at the Taber Agri-Plex from 9 a.m.-4 p.m.
"This has been put together by a group of volunteers, where our last one was seven years ago. We wanted to put something together for kids, because we know the importance safety plays on the farm and in the community," said Becky Domolewski, chairman of the Rural Farm Safety Committee. "We've had great sponsorship within our community for this event from a number of different organizations and our main sponsors are the M.D. of Taber, UFA and Ag for Life."
There will be a number of safety concerns addressed in the day camp which include livestock care, small and large farm machinery, electrical, water, environmental, health and first-response concerns.
"We try and adjust it to things these kids will likely see, whether they work on the farm or are visiting a friend on the farm," said Domolewski. "It's where you are safe when you are working with animals or the blind spots you have when you are working with machinery. Putting on activities like this is so important. If we can take an opportunity like this with not only children, but parents as well more aware of the hazards that are out there and how they can help prevent them, if we can make their farms and the community a little safer, we feel like we've done our job."
The farm safety camp is for kids six to 15 years old. Organizers would like to see kids registered for the rural farm safety camp by July 6 so that the camp can be organized properly as it includes lunch and T-shirts for the kids.
"We are going to cap it at 200 kids. We would like to see the adults attending with the kids. Why we want that is safety involves kids, but it also starts with the parents," said Domolewski. "There will be things there that the parents might not think about as well. We would like to see an adult for every four kids. Cost for the rural farm safety camp is $5 per child or $10 per family, which includes a T-shirt and lunch.
Children can be registered at McDonald Chevrolet or UFA in Taber.
You can contact Becky at 403-223-8917 for more information.