Annual pig roast fights hunger at home and abroad
Posted on July 30, 2015 by Vauxhall Advance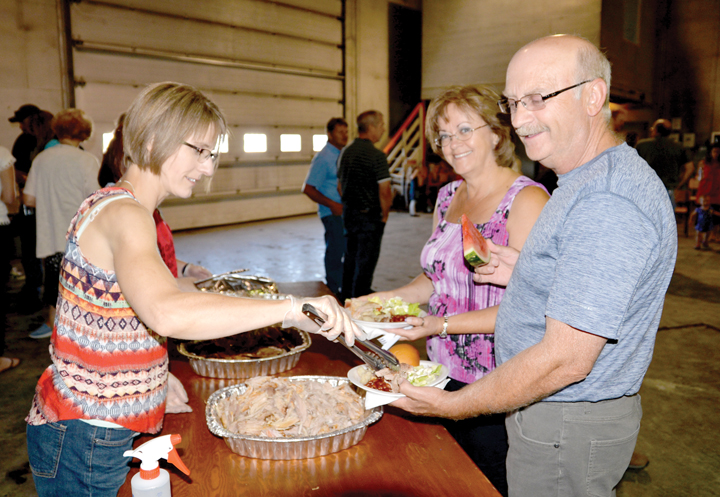 By J.W. Schnarr
Vauxhall Advance
jwschnarr@tabertimes.com
It was another crowded house for an annual pig roast intended to raise money for the fight to end hunger.
The annual Vauxhall and District Growing Project pig roast fundraiser was held July 22 at the Bennen Farm potato storage warehouse, and annually draws more than 400 people eager to share a meal and help out the cause of the Canadian Foodgrains Bank. Last Wednesday's event saw hungry attendees lined up the full length of the warehouse for a chance to feast on some roast pig, cooked courtesy the Copperfield Hutterian Brethren Colony, as well as an assortment of sides and desserts.
Jan Bennen, Chairman for the Vauxhall and District Growing Project, said the goal is to get the local community involved and to get them to come together to share a meal and raise money for the Canadian Foodgrains Bank project. The event, now in its tenth year, draws upwards of 400 people annually and is held in the Bennen Farm's potato storage warehouse.
"It's nice to get the community going," Bennen said. "We are on the blessed side of the world."
On a larger scale, Canadian Foodgrains Bank projects – numbering 35 in Alberta and 250 across Canada – are working to provide nourishment for around 800 million people worldwide who are experiencing chronic hunger.
Two-thirds of those people are involved some way with the production, processing, and marketing of food or other agricultural operations.
According to a CFB pamphlet, the organization provides a significant amount of its aid to agrarian people struggling with hunger that meets their immediate food needs, provides them with support maintaining seed stores and farm animals during times of food stress, and provides work as they develop long-term solutions.
Bennen said while it was important that their immediate needs are taken care of, the real aim of the organization involves the long-term projects meant to help hungry people develop their own ways to combat their food shortages.
"You can feed a man a fish, but it's better if you teach him to fish," Bennen said, paraphrasing a popular proverb. He said those efforts include building roads and helping with infrastructure as a means to move people toward self-sustainability.
The Vauxhall project has raised about $1 million over the years, and with the federal government kicking in matching donations at a 4:1 ratio, that $1 million has turned into $5 million.
"It really makes a difference," Bennen said.
For more information on the Canadian Foodgrains Bank, please visit http://www.foodgrainsbank.ca.