Queens start zone competition today
Posted on November 12, 2015 by Vauxhall Advance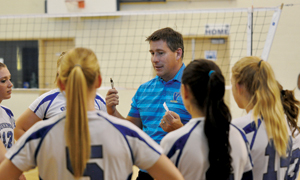 TEAM CHEMISTRY: Vauxhall Queens girls volleyball team head coach Scott Reiling is in a unique situation in motivating his team at zones this week at Lethbridge College as a berth into 2A girls provincials is already assured with Vauxhall hosting them for 2015.
Greg Price
Vauxhall Advance
gprice@tabertimes.com
The Vauxhall Queens volleyball team competes in 2A girls south zone volleyball starting today. But it's not like they exactly have to be zoned in to earn a provincial berth.
That is because Vauxhall hosts provincials Nov. 26-28, putting veteran coach Scott Reiling in a peculiar position.
"It's an interesting situation because it's not do-or-die for us. I'm interested to see how the girls respond to that," said Scott Reiling, head coach of the Vauxhall Queens girls volleyball team.
"Previous years, girls were just relieved to get to provincials and if we get the banner that's great. We get to go to provincials regardless because we are hosting. The focus can be we won't be afraid to lose because we know we get another week of volleyball."
That can both help and hinder a team as Reiling will have to do coaching the razor's edge. Hosting provincials means the girls can play loose and perhaps sub liberally if any players have some lingering aches and pains.
But, play too loose to the point of some bad volleyball, and you lose that momentum the team got from a tournament title in the team's last tournament of its regular season.
"Hopefully it can help where it takes off that tight, panic situation," said Reiling. "But there is that fear too, that we lose that feeling where my teams always play on the edge and have that fight in them, I don't want to lose that either. This is weird in that I've never been in this situation where I'll see how they respond. With those athletes that are still a little banged up, do you push them at zones and then make them unhealthy at provincials or do you rest them? These are a lot of things I've never had to consider before going into zones. You do want to put a good product out there both weekends."
Deep into the season, the injuries were starting to pile up on the Queens, but slowly and surely players having been getting nursed back to health.
"We are getting closer, things are looking up. Not last weekend, but the weekend before we were in Vulcan and it was the first time we had a starter and a half out, but we were at the point where it was only one (injured)," said Reiling.
"And we played really well where we sort of walked through the tournament. We didn't really slap around people, but we had every team in single digits for at least one set. We cruised through, winning all eight of our matches two sets to zero."
Having a week off before zones helps the healing process even more with those minor bumps and bruises injuries.
"They looked refreshed and revitalized (Monday). Having a practice after a five-day break, we haven't had that long of a break in a very, very long time, not since summer," said Reiling.
The Queens go into zones this week as the number-two seed that features matches today at 6:30 p.m. (Magrath) and 8:30 p.m. (unconfirmed 10th-seed). Friday's slate features matches at 4:30 p.m. (St. Mary's) and 7:30 p.m. (Immanuel Christian). Playoffs go Saturday with all the match action at Lethbridge College.
"It's a good, fair pool. St. Mary's Taber is a good little team. Magrath is no slouch and Immanuel Christian is no slouch. We are going to have to go out and play, but I think if we pass well and serve well, we will be a very tough team to beat," said Reiling.
You can follow 2A girls south zone volleyball competition on http://www.southzonevolleyball.com.