Peterson put on Wall of Fame
Posted on December 11, 2015 by Vauxhall Advance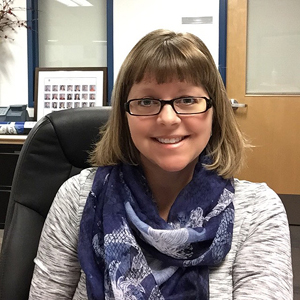 Jen Peterson (submitted)
Nikki Jamieson
Vauxhall Advance
njamieson@tabertimes.com
Jen Peterson is still surprised that fellow members of Vauxhall High's Wall of Fame committee managed to keep her nomination a secret.
"They must have been pretty darn sneaky," laughed Peterson, secretary for Vauxhall High School. "Normally, I kind of feel I know what's going on around here, but it must have been at least a few weeks of talking behind my back I guess."
As part of the fundraising committee for the event, she said they had originally planned for only one new entry this year. So when Jen Crowsen, the Horizon School Board trustee for the Vauxhall area, called her name was called at the event, she was floored.
"I was busy getting the money together for the special raffle, and kind of doing other things," said Peterson. "When all of a sudden she (Crowsen) announced my name, and I was like, 'Wait, what?'… I was completely taken back, I was completely off guard. I had no idea."
Peterson graduated from Vauxhall High in 1993. She left Vauxhall to attend college, but decided after a year that it was not for her and moved around southern Alberta, working "odd jobs", before marrying in 1998 and having her first son a year later.
That same year, 1999, the couple, having grown up in Hays and Enchant, decided to move back to Vauxhall.
"My husband and I both grew up in the area," said Peterson. "We were living in Brooks, and Brooks was just starting to get really busy. Lakeside was expanding, and we both decided we kind of like the small town life a little better, so he had a job opportunity to come back and work in Vauxhall, so we jumped on it."
Once in Vauxhall, she had her second son in 2003, and worked as a waitress and bank teller, before becoming the secretary at Vauxhall High in 2007, doing all the tasks one typically associates with the position, as well as helping manage a couple hundred kids worth of troubles, achievements, illnesses and families and puts together a yearly fundraiser and graduation ceremony.
In addition to the fundraising committee for the Hall of Fame, Peterson has volunteered her time to coach various sports. As well as coaching her sons in t-ball, softball and soccer, she also coached the junior high's tier 2 girls' volleyball team – although she believes she was a little bit "too competitive" for that age group – and jumped at the chance to teach Vauxhall High's JV girl's volleyball team.
Having played volleyball herself in school, she feels a special connection to the sport.
"The girls have this skill level, at Vauxhall, it's so high that it's so much fun to watch and they're really easy to coach," said Peterson. "But volleyball, you can be aggressive without being fouled. You can hit the ball hard, you can make good passes. Just a lot of team spirit, but also personal accomplishment as well."
In order to coach the JV team, she had to get a special license to in order to drive a bus to and from games. In addition, she also chaperoned overnight trips and is a mentor to the girls and help them out in matter on and off the court. Although Peterson doesn't believe that she does a lot, she credits her mom for showing her the joy of volunteering.
"My mom was very, very community minded… anything I do is because she taught me by example."