Artistic flair featured at library
Posted on January 21, 2016 by Vauxhall Advance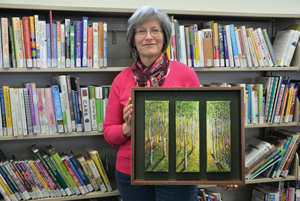 (Photo by Nikki Jamieson) LOCALLY SOURCED ART: According to local artist Hedie Wiebe, the best way to view some paintings is from six feet away, that way you see the whole picture and not the individual dots of paint.
Nikki Jamieson
Vauxhall Advance
njamieson@tabertimes.com
Hedie Wiebe has always been creating art.
An avid lover of colour and texture, she had at first expressed this through sewing and quilting, but she wanted to get into painting. However, as she lacked the fundamental knowledge, it wasn't that easy.
"I always wanted to paint, but there wasn't anyone who could give me the basics, of how to start. I needed to know how to start," said Wiebe. "I started experimenting with acrylic paint, but I couldn't get the depth I wanted. I couldn't get what I wanted, I was so frustrated."
Six years ago, a beginner's oil painting class was offered in the community 'take a class'. With the kids moved out of the house, her husband Henry encouraged her to take the class in Taber, saying that there was "no reason why I couldn't".
So she signed up and attended the class of three, which was great in the way of getting a lot of one-on-one instruction. The instructor, Margaret Radcliffe, became a mentor and friend to Wiebe, and encouraged her to join the Taber Arts and Crafts society. Since then, Wiebe continues to grow as a painter, and experiment a little as well.
"(God) has given me this, at this time of my life, when I can spend a lot of time doing it," said Wiebe. "Of course, life can get in the way sometimes."
For Wiebe, life includes running a farm and 15 grandchildren, with three more on the way. All are a joy to have, but sometimes she really just needs a moment to paint.
"Sometimes I'm torn though. I want to paint but I want to be with my family,"
chuckled Wiebe. "Summer is not a time where I do much painting; I try to sneak it in there because all of a sudden it feels like I have to paint. So then I sit down in the evenings sometime or in the afternoon and paint. Then I'm reenergized and away I go."
While painting continues to be her art medium of choice, she still finds creative outlets in gardening, which helps her with colour choices. But even when she is not painting, Wiebe is planning her next project.
"I have so many ideas in my head, so many projects I want to do, and I probably won't get much of that done in my head."
Painting is also very therapeutic for her, as she suffers from arthritis and fibromyalgia.
"I'm not thinking about pain, I'm not thinking about that kind of thing, you know," said Wiebe. "Whether it's an escape, I don't know, because it feels like I need to paint, and so all that works together, and I feel better. I mean, I have to do other things for those health issues, but painting is a very important part of that."
In addition to oil painting, Wiebe has gotten back into acrylic painting, uses different mediums such as rice paper, rocks, burlap and leaves to paint on and has been doing some watercolour and wax-resist watercolour. Wax-resist is a technique where you trace heated wax onto a page to kind of preserve the white colour of the paper underneath while you paint your desired picture. However, caution is a must.
"Once you've painted, you can't add more wax. And once the wax is on there, you can't remove it either. I've had a couple of disaster at the beginning."
She is currently enrolled in a class for encaustic painting – making pictures from hot wax – and wants to continue to expand upon the mediums she uses in painting.
"It would be a hard decision, to say which one (type of painting) I like better," said Wiebe. "I like trying new things."
Wiebe has done over 100 paintings easily, and her favourite ones are of old farming scenes, since she is a "farm girl at heart". She paints purely for her enjoyment, although she does take commissions, and considers any sales of her paintings a bit of a bonus.
Wiebe's paintings are currently on display in the Vauxhall Public Library until the end of February. They have also been featured at the YPM in Taber and the Picture Butte Art Gallery.
"The library has been very gracious in asking me to bring my paintings (for display), I'm very thankful for that," said Wiebe. "If people can enjoy them, that's the goal."