New Year's baby runs in the family
Posted on January 21, 2016 by Vauxhall Advance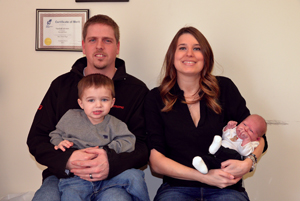 (Photo by Nikki Jamieson) BUNDLE OF JOY: Both Chason (left) and Braylee Sekura are the New Year's Babies of proud parents Brad and Robyn Sekura, despite being born closer to the middle of January.
Nikki Jamieson
Vauxhall Advance
njamieson@tabertimes.com
Vauxhall's 2016 New Year's baby has arrived.
Born on Jan. 14 at 4:24 a.m. at the Taber Hospital, little Braylee Sekura weighed six pounds and nine onces and 19 and a half inches in length, arriving two days late but in plenty of time to achieve the enviable title.
She is the second-born child of proud parent's Robyn and Brad Sekura, who farm just northeast of Vauxhall. The title was a bit of a shock for her parents.
"That's usually pretty late for a New Year's baby," said Brad. "We're just happy to have another member."
This isn't the first time that this thought has run through the minds of the Sekura family.
Their first-born, Chason, was the New Year's baby for Vauxhall in 2014 when he was born on Jan. 10. He was a little shy when asked about what it was like to be a big brother, but his parents said that he is "excited" to have a sister.
Although the couple wanted to have another January baby, they did not believe that their second child would also have the honour of being the official first baby of the year. Instead, they had a more practical reason.
"Our original plan, because he (Chason) was a January boy, that we would try again, so if it was a boy, we could just have hand-me downs and everything would be in the same season," said Robyn. "That was our original thoughts, we never even thought of a New Year's baby again."
"It's easy for me for farming," said Brad. "Then I could help with the kids. Having them in January, then I'm always home, and it just seems to work out for us in January."
Right now they've got their hands full, but in the event they do decide to have another child, they don't believe their third will be a New Year's baby as well.