Funds flooding in for pool project
Posted on January 28, 2016 by Vauxhall Advance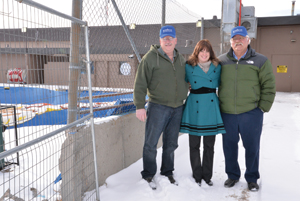 (Photo by Nikki Jamieson) A SWIMMING DONATION: On behalf of the Bow River Gas Co-op Ltd, Ernie Peters (left), chair of the board of directors, and Rick Thorne (right), general manager, present Vauxhall Mayor Margaret Plumtree $5,000 for the new pool's construction.
Nikki Jamieson
Vauxhall Advance
njamieson@tabertimes.com
When fundraising, it is always important to keep track of the money.
During their regular council meeting on Jan. 18, councillors recapped the various funding revenues towards the town's new pool.
The previous Thursday, they received their promised $200,000 from the Municipal District of Taber. They will also be getting, after some confusion involving a grant program at a bank, ATB Financial will be donating $5,000 towards the pool on behalf of the M.D. as well.
"The program is supposed to be when you donate like a $100," said Margaret Plumtree, mayor of Vauxhall. "So they couldn't do that larger amount, but they decided they would still donate."
Vauxhall Friends of the Pool Society is continuing to fundraise for the pool. According to their Facebook page, on Dec. 14, they had raised $14,436, and since then they continue to receive donations such as $5,000 from Southland Funeral Chapel, $55,000 from the Vauxhall Ag. Society and on Tuesday, received a grant of $100,000 from the Alberta's Community Facility Enhancement Program.
Vauxhall town council continues to receive pool donations such as $5,000 from the Bow River Gas Co-op, and will continue to fundraise. The pool will be paid off first, and once that is done, they will start fundraising for the added features – such as the slide and water features – that can be partially installed and covered until fully paid for.
Work on the pool was planned to resume on Jan. 25, due to warm weather.
"They were going to start on the 18th, but (it was too cold)," said Richard Phillips, Vauxhall councillor. "They're ahead of the game anyways."
While right now the pool is ahead of schedule, it is dependent on weather and councillors are keeping their fingers crossed that the pool will be ready to open by July 1. The old pool had extensive leaks, leading to its closure a few years ago.