St. Joseph's church inviting you Backstage
Posted on February 25, 2016 by Vauxhall Advance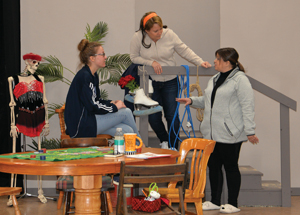 (Photo by Nikki Jamieson) WHAT COULD POSSIBLE GO WRONG?: (left to right) Afke Muller as Agnes, Lisa Huvenaars s Ginger and Shauna Wiest as Claire, discuss the latest mess the Baroque Theatre, leading to the ominous 'dun dun dun DUNN'.
Nikki Jamieson
Taber Times
njamieson@tabertimes.com
When seeing a play, you only know what goes on in the front of the house.
Well now its time to take a look behind the curtains in Vauxhall's upcoming performance, when St. Joseph's Catholic Church hosts their 6th annual play, Backstage.
Rehearsals are well underway and going well, although now that they are doing it sans script, the exit cues are a little tricky.
"We're having lots of fun, it's hard not to laugh when we are doing rehearsals," said Boyd Dunn, Backstage director and actor. "When you aren't using the scripts anymore, it becomes a challenge to remember your lines and make your entrances and exits at the right time, but we're at a point where that's moving along smoothl., I think people are really going to enjoy the show."
Backstage is about the events of opening night in the backstage of the run down Baroque Theatre house, which is the verge of closing. In a last ditch attempt to save the theatre, they are putting on 'Don Juan in Cleveland', starring the famous actor Burton Cavendish, but circumstances prevent Cavendish from performing at the last minute.
Now the pressure is on for his understudy to pretend to be the star and give the performance of his – or more like Cavendish's – lifetime, and everyone in the theatre house must work together pull this great deception off, or else the theatre will close for good. But with superstition stage managers, star-struck mothers, arrogant newspaper critics and a pompous aging actress to deal with, pulling this off might just be the real performance.
While it was a different type of play to do, in that it was about the back of the house, Backstage was chosen because every time he read the script, it made the veteran director laugh.
"Every year, when I try to select a play, when I read the script, if it makes me laugh to start with," said Dunn. " I keep reading it over and over again and if it keeps making me laugh, it it's probably a good one to do."
Since this year they also have a relatively small cast size, 16 compared to 26 and 30 in the previous years. With the smaller group, it is easier to do rehearsals with everyone there. This year's cast includes Cindy Kurek, Shauna Wiest, Alana Johnson, Rita Leask, Paul Huvenaars, Kathleen Klemen, Dunn, Lauren Gouw, Darren Skretting, Lisa Huvenaars, Afke Muller, Ron Huvenaars, Shane Virostek, Sharon Dunn, Anika Huvenaars and Dirk Geerligs.
Tickets are $15 for adults and $10 for students each at the Vauxhall Hometown Hardware store. All proceeds will go towards the St. Joseph's Catholic Church building fund, to help finish paying for recent renovations.
"We have a beautiful building now, we're just doing fundraising to finish paying for it."
Backstage will run from March 3-5 and March 10-12 at 7 p.m., with an additional matinee at 1 p.m. show on March 12, at the St. Joseph's Catholic Church Hall.
"It's very different from the performances we've done before. Like we've had one in a hotel and one in a hospital last year," said Dunn. "I think people will enjoy the story and the performance."