Skretting shares in The Revenant's Oscar jubilation
Posted on March 31, 2016 by Vauxhall Advance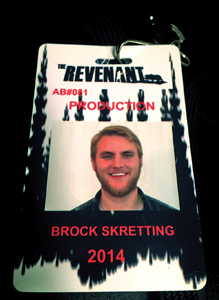 ADVANCE FILE PHOTO
Ryan Dahlman
Southern Alberta Newspapers
In southern Alberta, many people celebrated Feb. 28 by hosting an Oscar party. 
One of those who had more than a passing interest was Brock Skretting, a trainee production co-ordinator on the movie The Revenant.
The Vauxhall native and University of Lethbridge graduate watched as the film which he worked on in the Canadian Rockies and southern Alberta was able to earn three significant Oscars including Leonardo DiCaprio (Best Actor), Alejandro González Iñárritu (Best Director) and Emmanuel Lubezki (Best Cinematography).
Skretting had been at a viewing party in Calgary where some of the local crew who worked on it along with people who work in the industry watched. Skretting was thrilled for  those people who won. 
"I'm very happy for those who won. It's probably a tie between Chivo (Lubezki) and Leo because both were historic," explains Skretting.
"No cinematographer had previously won three years in a row before and yet, despite it being unprecedented, he was the heavy favourite going into the night. 
"Leo having never won an Oscar before despite being in so many great roles and films had become its own joke and Internet meme over the years so to have seen in person the process of making the film that ended that is pretty special."
Skretting was showered with well wishes from family and friends. It's a good feeling for him to be part of an Oscar winner. All the work he and his family put in and all of the sacrifices and time he put into his craft paid off. 
If there was a slight damper to the evening, it was The Revenant's failure to earn the Best Picture nod. Skretting was honestly surprised it didn't. 
While it would have been excellent on so many levels to have helped with the overall production of an Oscar-winning picture, he feels The Revenant will stand the test of time. 
"I was disappointed because of all the work that went in it would be nice to have a Best Picture winner on the old CV —  How the night was going it seemed like the obvious choices were either to reward Mad Max for the great achievement and genre movie that it was — among the most fun and exciting films last year — or go with the epic and poetic art piece that The Revenant ended up being. While Spotlight was a well-crafted film with amazing performances I could argue that half of the nominees for Best Pictures were more powerful and important choices than that film which was about systemic injustice and abuse in the Catholic Church — something that, thanks to the great work of the journalists involved, I think most people globally are very aware of already.  
"This year Mad Max, Room, and The Revenant add themselves to a long list of exceptional Best Picture candidates in the past that did not win (Fargo, E.T., The Shawshank Redemption, Psycho, Raging Bull). Time is the true test of the effect of a film, not awards or accolades."
Skretting found the overall show interesting. Being on the production side of a multi-nominee he thought the actual television show broadcast became more about the lack of diversity in the selection of nominees than about celebrating the craft of those who were nominated. 
"It's a point that needed to be made, definitely and I hope that it's a step toward making the industry more universal rather than American and diverse in the stories that are told — not just by including more African Americans or any one race," explains Skretting. "I mean, The Revenant was a film about American history, produced by Americans, crewed by Canadians and Argentinians, directed and shot by Mexican filmmakers about the plight of humanity featuring American, British and Native American — of many different tribes — cast and was financed by an Israeli billionaire. If that's not diversity, then I guess I just don't understand the concept."
While it's great to enjoy a successful evening, it's no time to rest on his laurels as he is starting a unit shoot on a caveman movie that he can't say a lot about right now. He's not sure how working on The Revenant will help him in the future, but it can't hurt.
"In the same way actors get typecast, it looks like we're also getting type-crewed (in regards to period movies about the wilderness and suffering)," Skretting notes. "Not sure how working on an Oscar winner helps you career- wise as it just happened, (but) definitely helps the calls coming for work. The experience is the main thing. We had a saying on The Revenant 'totally normal' which is where the craziest most insane thing that ever happened in your career would happen on a weekly or even daily basis and you'd turn to the person next to you and say 'totally normal', because crazy was the new normal. 
"After The Revenant, any amount of stress, pressure, or ambition will be met with, 'Yes, this is nuts, but it's the not 'The Revenant nuts' and that gives you a freedom I believe is invaluable. I will tell you one thing I felt on Sunday seeing those awards being passed out (and The Revenant being passed up for best picture) — hungry to get my own (Oscar) one day."