Pool project gets major cash infusion
Posted on April 7, 2016 by Vauxhall Advance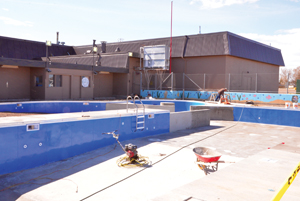 (Photo by Nikki Jamieson) POOL PROGRESS: Workers take advantage of a sunny afternoon to work on the community pool on Sunday, April 3. The pool is set to open by July 1.
Nikki Jamieson
Vauxhall Advance
njamieson@tabertimes.com
The Vauxhall community pool just received a big boost in its funding.
Reading from a letter to council, received during its regular April 4 meeting, Vauxhall councillors were proud to tell the Vauxhall Friends of the Pool Society that they received a grant, to the grand total of $350,000, for the pool from the Alberta Community Partnership program.
According to the letter, Danielle Larivee, Minister of municipal affairs, wrote that the pool project "exemplifies" the ideal of strong working relationships between communities and regional approaches to municipal service delivery.
According to Vauxhall Mayor Margaret Plumtree, the announcement should have come with some fanfare.
"We are so excited, right," said Plumtree. "I feel there should be confetti coming down!"
To justify the large grant, the pool will cost a total of $877,500 – including landscaping and accessories – to complete. With $210,000 of that amount going towards landscaping – including concrete, fencing and, optionally, fake grass – and pool accessories – which includes a $75,000 price tag for the slide.
FotP's only concern about that grant was they had applied for another grant for the slide, and were expecting to receive $37,500 for the slide. But since the ACP grant is covering the slide, they would need to go and check to see if they could switch that grant to something else.
"As long as we don't have to refund a portion of this if we get an additional grant designated for the slide, because that would be pointless," said Cris Burns, CAO for Vauxhall, asking if council could investigate that, although it sounded a bit like grant stacking.
FotP had also received some estimates for the fake grass. Valerie Mattice, FotP society secretary, said that the price was higher then expected, but stressed that it was "still nicer than cement." The quote they received was $8-12, but as they didn't have the email with them, they weren't sure if it was per square metre or per square foot.
While council has approved additional concrete decking to extend to the community complex, the society wants the fake grass to go from the southwest corner and wrap around the north side. But, as that corner is a bit of a wind catch, administration said it would not be practical.
"It's perfect to have cement," said Burns. "They can clean it and keep it clean. Grass will hold the dirt and then just become a glob, like a mud ball later. It's just going to become a hazard…a maintenance issue."
Council and FotP plan to do the fake grass on the north side of the pool, although a bit more concrete will surround where the slide will go.
"That's where the sun is, that's where people are laying and tanning, that's where I can see the grass," said Kimberly Crawley, Vauxhall Councillor.
Since the grant also gives them the means to get the slide as well, next came the tough decision of deciding on the colour. Since the umbrellas, already ordered, will be yellow, the lining will be white per code, town colour's are blue and red and Vauxhall's sunny summer weather fades a lot of the deep colours, FOTP chose 'sky blue' for the slide.
FOTP also has another slide, a little one that had been donated by town staff through union dues a few years ago, that they inquired about installing in the kiddie section of the pool. Council agreed to ask the contractor about it.
It will take approximately 12 weeks for the new, sky blue slide to go in, so if the slide is ordered this week, chances are is that it may be installed just in time for the their target date of July 1.
Landscaping, including the installation of the fake grass, is expected to begin next month. If all goes well, the pool should be open in time for the Canada Day celebrations.
"With the grant, it would seem that we have enough money to do what we want to do," said Richard Phillips, Vauxhall councilor. "That generous government grant has obviously made a huge difference."
"The only way I don't think we'll complete something, is just if time didn't allow and we wanted to open to doors," said Plumtree. "If the money is there, let's do it, right?"
Once the pool contractor, Western Recreation, is done with the pool, Plumtree explained, then landscaping begins immediately afterwards. FotP told council they were assured that the grass would be in time for July.
Plumtree also stressed that although the grant was a huge step in getting the community pool back, that didn't mean that they could stop fundraising.
"They (people) think it's a done deal, but we keep telling them its not," said Mattice of the fundraising efforts.
"It's great and all, we fundraise, we got it, now support it," said Plumtree. "And continue with the fundraising. There's always stuff, right, and if it becomes too expensive and we can't open the doors, it would be horrible."
Vauxhall council has yet to set a date for the official grand opening of the pool, although they are tentatively thinking about June 28, the day after the last day of school. An open house for the pool is taking place on Friday, April 8, from 11:30-3 p.m. FotP will be hosting a dinner and auction on Saturday, April 16.