Vauxhall Elementary teacher named Horizon Edwin Parr nominee
Posted on May 5, 2016 by Vauxhall Advance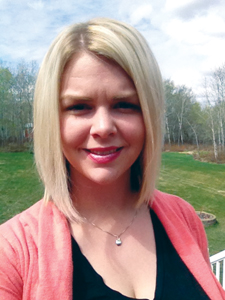 Kaitlyn Smith
Nikki Jamieson
Vauxhall Advance
njamieson@tabertimes.com
A Vauxhall teacher has been named the 2016 Edwin Parr nominee for the Horizon School Division.
Kaitlyn Smith is a grade 1/2 teacher at Vauxhall Elementary. She had grown up in the small town of Vermilion, Alta, and wanted to continue to work in a small town.
"I always enjoyed living in a small town, and that's where I aimed to be," said Smith.
She was named the nominee because of her student-centered teaching approach and the attention she gives to her students by helping them set and meet personal learning goals. Smith was surprised to learn she was named the nominee, as she felt she was just doing her job.
"(Being named the nominee) wasn't something I expected to get. I just come in everyday, I feel like I just do my job like everyone else, and always strive to do better, and just making sure I'm there for the kids and do the best I can for them," said Smith.
"You're the person they see most in a day. Most of the time, you spend the most time with them. You have a pretty big impact on their life, so make sure you're making a positive one."
She was inspired to get into teaching from a former teacher, who encouraged her to give her all to her studies and extra-circulars.
"I had a very great teacher in high school, who just really pushed me to strive in academics and athletics… It made me realize that it was something that I wanted to do for other people."
Smith will join nine other nominees from Zone 6 at the annual Edwin Parr Awards Banquet on Wednesday, May 11, at the Heritage Inn in Taber, where one finalist will be selected to compete for the provincial award.
Alberta School Boards Association's (ASBA) Edwin Parr Teacher Award aims to recognize extraordinary teachers in their first year, in memory of Edwin Parr.
Edwin Parr lived in the Meanook area near Athabasca in 1920, where he began a long career in educational affairs as a member of the board with the George Lake School District. He served as chair of the board with the Athabasca School Division, was president of the Alberta School Trustees' Association from 1956 to 1962 and was on the council of the County of Athabasca from its formation in 1959 until his death in January 1963. 
During his career, he started an Annual Teacher Award in his school system, where each year, a teacher was chosen to receive a gold watch and an appropriate certificate for their long and commendable service. The Alberta School Trustees' Association established the Edwin Parr Teacher Award in 1964, to honour his work and the profession he loved.