Project Protein set to assist Vauxhall Food Bank with donations
Posted on May 12, 2016 by Vauxhall Advance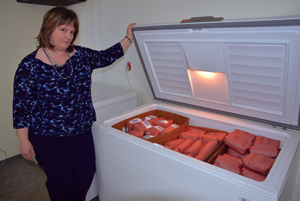 (Photo by Nikki Jamieson) MEAT MATTERS: Laurie Gallup, coordinator of Vauxhall and area for the Vauxhall Food Bank, shows a freezer still filled with meat from Project Protein.
Nikki Jamieson
Vauxhall Advance
njamieson@tabertimes.com
It is officially ok for you to still donate an entire cow to your friendly neighborhood food bank.
The Vauxhall Food Bank has decided to carry on with a 2014 initiative called Project Protein to help drum up much-needed meat donations for the food bank.
Project Protein originally started as a pilot project by the Interfaith Food Bank Society of Lethbridge, through the use of a provincial grant. What it did was allow meat producers to donate an entire animal – in this case a cow or pig – to a participating food bank of their choice; or to the Interfaith, Lethbridge, Taber, Picture Butte, Coaldale and Vauxhall food banks.
"Food Banks have a real problem getting adequate protein," said Laurie Gallup, coordinator of Vauxhall and area for the Vauxhall Food Bank. "We get a lot of pork and beans, we get a lot of canned meats, that's it. That's the limit. And so, they (Interfaith) were trying to think of a way that they could do it without having to always purchase other kinds of meat with our own funds.
"They did some research and found out that the cattle industry has a little bit of animals that kind of go to waste. I don't exactly know the ins and outs of cattle ranching, but I guess it has to be a certain weight when it goes to market, and if it isn't, it can't. So instead of them trying to sell it on their own, or butchering it and keeping it for themselves, or whatever they end up doing with the animal, whether it is underweight or there's other reasons, it can be donated to the food bank."
The way the project worked was that the producer would contact the Project Protein coordinator, and explain they wanted to donate this animal to this food bank. The animal must be able to 'walk' itself to the abattoir, the producer is responsible for the transportation and the animal must pass inspection.
"Even though its free meat for the food bank, it still needs to be safe for everybody to ingest."
The food bank will pay any inspection fees, processing and cut and wrap of the animal if it passes, otherwise the producer would bare the costs and the food bank would not be able to accept it. Pork donations cannot exceed 470 lbs live weight, and the donor would receive a charitable tax receipt, based on the fair market value of the dressed weight of the animal.
Throughout the pilot project's life, from 2014-16, the Vauxhall Food Bank received 1,610 lbs of ground meat – that's enough to fill 6-1/2 deep freezers.
"Which we never, ever would have had access to before, or would have had to pay for ourselves, to get that to our clients."
However, the program ended in February earlier this year, when the grant ended. Since then, each of the food banks that participated has decided to continue with the project individually.
"The only catch is, now we don't have the pilot project paying for our processing fees or inspection fees or packaging fees," said Gallup, adding that one meat processor told her it would cost about $300 an animal.
"Now, if we want to accept an animal donated to Project Protein, we, the food bank, have to pay all those fees ourselves."
The terms remain the same, although if you wish to donate to a particular food bank, you must call them before making an appointment with a participating abattoirs. Also, if you are feeling particularly generous, you could also donate the inspection fees as well.
"Now, if a farmer or rancher wants to donate a cow or a pig, they would need to contact each individual food bank, find out if they have the money to pay for the processing of the donated animal, before it can go to the meat processer, and then be inspected, processed and packaged for the food bank."
Meat is a particularly tricky product for food banks to produce, due to its high cost at small volume. Most food banks tend to rely on canned meats, making the donation of fresh meat highly valued.
If you wish to donate to the Vauxhall Food Bank, call (403) 654-0848, for more information.