4-H Show and Sale goes this weekend at Agri-Plex
Posted on June 2, 2016 by Vauxhall Advance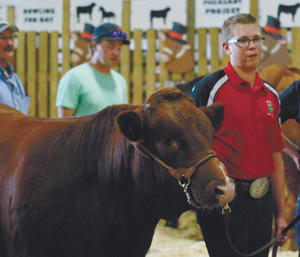 (File Photo) HARD WORK: 4Hers from the Vauxhall/Enchant/Hays regions will be front and centre presenting their animal projects at the 2016 Taber and District 4-H Show and Sale at the Taber Agri-Plex.
Greg Price
Vauxhall Advance
gprice@tabertimes.com
All the hard work of 4-H clubs across southern Alberta will be showcased this weekend at the Taber and District 4-H Show and Sale at the Taber Agri-Plex.
"During the year we have our public speaking in our speak offs, they do record-keeping books and with every club there are your presidents, secretary and treasurer. They put a lot of time and effort into 4-H," said Billy Wenbourne, president of the Taber and District meat council.
The sheep show portion goes on Friday, starting at 11 a.m., followed by the steer show at 1:30 p.m. where some 4-Hers will be grooming and washing the animals beforehand after weigh-in at 8 a.m.
"Each judge has their own thing they look for. They want an animal that's not too over fat or too underdone. The ones that are going to give you the best cuts of meat," said Wenbourne. "A lot of the same things fall under what makes a good animal in the same category, but each judge's eyes are a little different from one another. It's like anything, if you were to ask 10 people their favourite hockey team, each person would pick something different, but they are all still good teams."
The top two from each club will be chosen by judges where overall reserve and grand champions will be chosen from that select group.
"For the steer part of it, you have to work hours and hours and hours at breaking the animal to lead and get up to pet it. It takes a long time and the kids have to put a lot of effort into it to bring the animal into town and to sell," said Wenbourne. "The sheep is a little shorter of a process, but they still put a lot of time and effort in."
For the calves, the latest weigh-in day can be is Nov. 15 the previous year, where the animal is then on feed for 200 days up until the show and sale.
"Every day the kids have to go out and feed them and take care of them. Some will try and halterbreak them right away, while others wait a bit. For a lot of the kids, they get quite attached to the animal. The animal becomes their best friend because they spend so much time with it," said Wenbourne. "For the sheep, it's a little shorter period where they start at the beginning of April. Any type of animal, you got to take some time for the animal to know you and you know the animal before you can move onto the next step."
Unfortunately, sometimes that calm bonding never happens where then a young 4-H member is given a spare animal to show.
"Some animals won't let you halterbreak them or pet them. So we give the kid a spare so they can still participate in the show," said Wenbourne. "Some animals will be halterbroke and tame at the beginning, and all the sudden then go crazy and get worse and worse to the point the kid can't bring the animal into town."
Saturday's slate begins at 8:30 a.m. with judging competitions, and then at 9:30 a.m., the beef breeding sow goes. An extra this year will be business representatives from Masterfeeds, Summit Motors, Western Tractor, Taber Animal Clinic, Bank of Nova Scotia and an auction market with a businessman showmanship category. That portion goes on Saturday at noon, right before the sheep and beef sale at 2 p.m.
"We will give six businessman a calf, hopefully a tame calf, where they show the calf and we will have a judge there to pick a winner with a ceremony and some awards given out," said Wenbourne.
After the sale, people will be treated to a big pig roast.
"There will be two tickets (to the pig roast) for every person who buys an animal, and for everybody else it costs $5," said Wenbourne.