Facebook for Town of Vauxhall
Posted on June 9, 2016 by Vauxhall Advance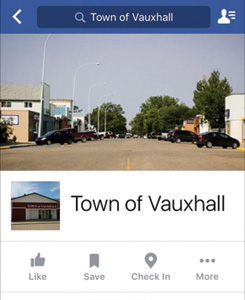 Nikki Jamieson
Vauxhall Advance
njamieson@tabertimes.com
You can now officially 'like' the Town of Vauxhall.
At the end of the regular June 6 meeting, administration announced to Vauxhall town council that as of noon that day, the town now has its own Facebook page.
Run by town administration but officially managed by Samantha Vauxhall — one of the beloved potato town mascots who now has her own Facebook profile — the site will serve as a source of information for town residents or visitors.
"The town of Vauxhall is happy to have another avenue to network with our community," said Margaret Plumtree, mayor of Vauxhall, after the meeting.
With the advance of the digital age, more and more organizations are turning to social media sites to spread information about their services. Organizations such as the Canadian Badlands are encouraging members to join these sites to help spread the word about who they are and what events are happening when in their communities.
"That is how everybody connects with everybody," said Christie Sorenson, town councillor. "Facebook, Twitter, thats is how you connect."
Although a mere few days old, the page already has swimming schedules, senior's week events and contact information.
To visit the Facebook page, visit https://www.facebook.com/Town-of-Vauxhall-304038959933994/.