Marie a trailblazer in her presentation of classical music
Posted on June 9, 2016 by Vauxhall Advance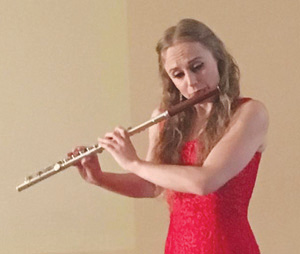 (Photo Submitted) MUSICAL MOMENT: Haley Marie plays the flute during her production of 'A Night in Paris', in Vauxhall late last month. She considers the stories behind the composers just as important as their music, and shares them in her performances.
Nikki Jamieson
Vauxhall Advance
njamieson@tabertimes.com
When she was 12, Haley Marie wanted to play the clarinet in her school band.
Her mother, however, wanted her to play the flute instead.
"She said, 'Oh Haley, isn't the flute so pretty? Don't you want to play that?' And I didn't think this decision would make much of an impact on my life," said Marie.
"I thought, OK, I'll make mom happy and switch over to the flute and, little did I know, how much it would affect my life."
Marie found herself practising more and more, and it quickly grew into a passion that translated into a career. Having grown up in Winnipeg, she attended McGill University, where she received her Bachelor of Music, majoring in Flute Performance, and attended Yale's School of Music, where she received her Masters in Music in Flute Performance.
Although she has come a long way since grade school band, Marie continues to take lessons, even traveling all the way to Europe to do so.
She also has received the Gold Medal for Flute Performance from the Royal Conservatory of Toronto and the Governor General's Award at the Winnipeg Music Competition Festival for her musical work. She has performed at the prestigious Carnegie Hall not once, not twice, but three times.
"I think that really learning music and mastering your instrument is a life-long thing, as with any art," said Marie. "When I go and I perform for so many people, I want to be the best I can be. I think we can always learn, and we spend a lot of time in the practice room, working out the details of things. There is really a lot to work at, so this is one of my things, is to never to settle, to always pursue being better."
Marie performed in Vauxhall, home to her fiancé's family, in a concert entitled 'An Evening in Paris' on May 30. The Vauxhall performance marked the 10th out of 12 stops in a four-week Canada tour that took her all the way from Toronto to Salmon Arm, B.C.
The way the concerts are structured is the audience would view short videos about the composer before they would hear the music, before moving on to the next composer. Marie also talks about what life was like back then.
Her performances are unique in the way they are interactive. Breaking away from the stereotype that classical music is stuffy and prim, through the use of videos and music, she aims to get her audience to hear the music, and then totally change their perspective on it.
"Mozart actually wrote many of his pieces in order to get a reaction from the crowd, in the middle of the piece. That's what he actually wanted. And he's one of history's biggest names in music. So I figure if that's what he was going for, it can't be all that bad. So I'm kind of following in his footsteps and paying homage to that."
Marie owns her own company, Aurelia Productions. Aurelia is Portuguese for 'golden', because Marie believes that the music and the stories are gold.Founded in 2011, the company has produced a number of shows, which include 'An Evening at the Salon', a cancer fundraiser concert 'Music for Mom', 'The Enchanted Flute' and 'The Men Behind The Music'.
"I started up my own company to kind of give a platform to create all of the videos, the multimedia, and really to tackle this issue of presenting classical music in a completely different way," said Marie. "If Aurelia Productions is doing a show, it's going to be a different type of show than most classical concerts… Someone along the tour compared it to, it's like watching an interesting show on the History Channel, but there's live music in there too."
Back in the days of some famous classical composers, one did not simply sit down, face the orchestra, and listen to the music in silence. People would sit at tables in groups, eat, drink, talk, and walk around while the music was playing, always letting them know what they think of the music – even throwing food at the musicians if they didn't like it.
"This interactive, social concert sounded a lot more fun then maybe sitting still for two hours," said Marie. "That's why I strongly encourage my audiences to cheer and clap and laugh and eat and drink, and really have fun and relax."
Marie says that the classical composers of yesteryear are much like the pop stars of today, each with weird quirks and personalities.
"I want my audiences to know the composers as people, not just names in a textbook attached to a bunch of dry facts. Many of these guys had problems and addictions and faults and interesting love lives and vices, and some people hated some of them. I want my audience to know these guys as people, not just 'Oh, this guy just must have sat in his room all day and composed and he didn't do anything else. The life of the lives of composers are very, very comparable to Mick Jagger or The Beatles or Michael Jackson, Justin Beiber, whoever. And a lot of them had serious problems they were dealing with, and I want my audience to know what was going through their minds, when they were writing this music."
Marie plans on returning to Vauxhall to do a Christmas concert later this year.
"I play everyone's favourite Christmas carols, carols that everybody knows and talk about where they come from, and those stories are just as shocking."