Retlaw, Hays clubs finish high in 4-H Show and Sale
Posted on June 9, 2016 by Vauxhall Advance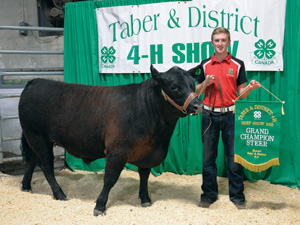 (Photo by Nikki Jamieson) STEER CHOICE: Abe Bueckert from the Hays 4-H Club was named the District Grand Champion for Steers at the Taber and District 4-H Show and Sale last Friday. Bueckert has been a member of 4-H for six years, and has done the lamb competition for three years before switching to the steer competition.
Nikki Jamieson
Vauxhall Advance
njamieson@tabertimes.com
After 200 days, the 4-Hers finally got to show off all their hard work during the Taber and District 4-H Show in Sale last weekend.
Taking place June 3-4 at the Taber Ag-Plex, members of the various 4-H clubs in the area were given the chance to show off the steer or sheep that they raised over the course of the last year. Competing against fellow club members and other 4-H clubs, over a hundred entrants strove to be this year's Grand Champion.
The animals weigh in in mid-November, and have to be below a certain weight. Over the winter, the 4-H kids are responsible for caring for their respective animal, with most clubs hosting their own shows in May, to help them prepare for the big district show and sale.
"They spend hours and hours and hours with the steers," Billy Wenbourn, president of the Beef Council for 4-H. "You know, feeding them every day, being around them everyday… As time goes on, and you're feeding them everyday and they get to trust you, then all of a sudden you can start petting them and it just goes from there.
"But when you come into town, they can go lots of different ways. They can be tame at home and when they get in here, they go wild or vice-versa, but if they're a little bit tentative when they go through that gate there, a couple of hours in here they calm right back down."
Only a few entrants were unable to make it this year – one due to a school commitment and another whose steer wasn't calm enough – so the competition was particularly stiff.
The District Grand Champion for Steers Abe Bueckert, Hays 4-H, was confident that he was going to be this year's winner.
"I felt confident in the beginning, so its amazing, I feel grateful," said 18-year old Bueckert, a 4-H member for six years, who has worked with both lamb and steer. "He started off as a really good steer in the beginning… He's been eating normally, like every other year, I guess it's just his own body that gained what he needed to win."
It is only the second year of competing for the Reserve District Grand Champion for Steers, Chase Plumb, Retlaw Prairie 4-H Beef Club. Barring not being able to halter-break a steer, he predicts he will do very well next year.
"It could turn out very good, or it could turn out I get a bunch of calf steers that don't work out and are not very calm. But I should do pretty good for the rest of my career. I'm still learning," said 11-year-old Plumb. "I did have a special trick of keeping his head up, Il'd scratch him sort of at the bone of his tail, and he'd put up his head and lick his lips."
This year, sheep ruled the arena with 77 entries, including categories such as Pen-of-Three, Prospect Ewe and Market Lamb, while steer entries numbered 63, including the Group-of-Four Competition, when each club chose four similar steers to showcase.
"The steers are down a little bit and the sheep are up," said Wenbourn, adding that neither animal is easier then the other. "I think they're learning, even if they don't think they're learning. The public speaking, the book keeping, all the positions on the board, just being around one another, I think it rubs off… Just enjoy your youth and one day you will realize how much 4-H effects you when you're older, all the positive stuff that comes from it."
The following is a list of award winners from the Show and Sale;
– District Showmanship Competition Lamb: Junior – Justin Lesson (Hays), Senior – Lauren Gouw (New Ewe)
– Grand Champion Market Lamb: Svanna Van Der Wielen (Hays)
– Reserve Grand Champion Market Lamb: Calvin Holthe (Retlaw)
– Grand Champion Female Ewe: Jessie Ferguson (Retlaw)
– Reserve Grand Champion Female Ewe: Kyle Muller (Grassy Lake)
– District Showmanship Competition Steer: Junior- Sayge Turcato (Bon Ayr), Senior – Kalle Bonette (Grassy Lake)
– Grand Champion Steer: Abe Bueckert (Hays)
– Reserve Grand Champion Steer: Chase Plumb (Retlaw)