Teams donate winnings to JSS
Posted on August 11, 2016 by Vauxhall Advance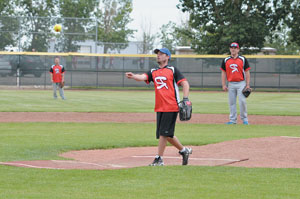 (Photo by Trevor Busch) MOUND MAGIC: Pitcher Jay Christensen of Team Ridiculousness, whose players largely hail from the Lethbridge/Picture Butte area, tosses in a pitch to an opposing hitter from the Juglovers dur- ing the 2nd Annual Jets Stadium Society Slo-Pitch Tournament on Saturday afternoon at Jets Stadium. Team Ridiculousness went on secure the "B" Division in the tournament.
By Nikki Jamieson
Vauxhall Advance
njamieson@tabertimes.com
Baseball lovers descended on Vauxhall last weekend for the Jets Stadium Society's Slo-pitch Tournament. While it was the second year the event was managed by the society, the 30-year history behind the Vauxhall tournament had spectators and players alike all to eager to play ball.
"It's definitely a mix; there have been some teams playing in the tournament for 30 years — like generational teams," said Rikki Lee Gavin, a tournament organizer and JSS member. "We also had teams coming from Taber and Lethbridge, who play in the leagues there, and teams from as far away as Olds and Calgary, who play in slowpitch teams there."
A total of 14 teams competed in the tournament in three divisions, playing from 6 p.m. on Friday, Aug. 5, to the final games on Sunday, Aug. 7, at 3:30 p.m.
New this year to the tournament was a Home Run Derby, which saw 21 males and six females competing for a 50/50 pot in their respective categories after paying a $10 entry fee. Jordan Wong, an alumni of the Vauxhall Baseball Academy, took home the male pot, and Caroline Waddle took home the female pot.
Winners from the tournament were, as follows:
• "A" Division – Devil Rays (won $350)
• "B" Division – Ridiculousness (won $300)
• "C" Division – Juglovers (won $200)
• "A" Consolation – On Deck (won $150)
• "B" Consolation – Dry Creek (won $100)
• "C" Consolation – Reidline (won $50)
A few of the teams preferred to just have the bragging rights for the year, with the Devil Rays, Ridiculousness and On Deck gifting their winnings back to the society.
"It was actually the first year we've been in the finals. I've played in the tournament for over 10 years and never been in the finals before," said Gavin, who played on the Devil Rays team. "We won our tournament fee back, and we just donated it back to the Jets society."
Although the final funds have not been tallied yet, proceeds from the tournament will go towards the purchase of an infield tarp for the Jets Stadium.