VHS brings in Mount Everest climber for first day
Posted on September 8, 2016 by Vauxhall Advance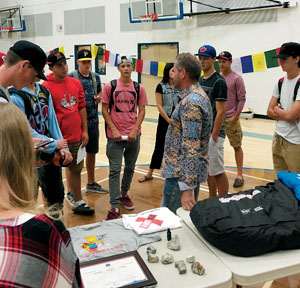 (Photo submitted by Todd Ojala) RAISING AWARENESS: Items displayed are from Trevor Stuart's climb up Mount Everest, to raise awareness on domestic violence and to help the Lethbridge YWCA. VHS had brought Stuart in to talk to students on how to set and acheive their goals.
By Greg Price
Vauxhall Advance
gprice@tabertimes.com
Whatever the challenges, Vauxhall High School (VHS) students certainly got the right message on facing those challenges head on through its inspiration speaker they had to start off its school year.
Lethbridge's Trevor Stuart was on hand to deliver his 'Elevating Lives, One Peak at a Time' motivational speech for Vauxhall High School's first day of school last week.
Stuart climbed Mount Everest earlier this year to bring awareness about domestic violence and to help the YWCA in Lethbridge.
"As a child, he was brought up in avery abusive home, where basically he had everything going against him," said Todd Ojala, principal at Vauxhall High School.
"It was a story of resiliency and to never give up and persevere."
Stuart certainly had to persevere in those days, wading through a childhood of physical and mental abuse, trying to avoid the traps and cycles that could have easily of led Trevor down a destructive path himself into adulthood.
It was the educational system that led the motivational speaker down the right path, as a teacher asked Stuart to write down 10 goals of things he wanted to accomplish before he was 20 years old.
"He never really thought about it, because he thought he'd be dead before he was 20 years old," said Ojala. "He didn't really have any great perspectives because of the situation he was in. He talked about how he would go home at lunch time just to make sure his mom was still alive, that is how abusive the home was."
One of those goals was to climb a mountain. That mountain eventually would just happen to be earth's highest mountain, with its peak being 8,848 metres above sea level.
"The kids got to see all his climbing gear and he made the kids pick up his backpack which weighed 70 pounds. One of the young guys put the backpack on, and he made him do a push-up, just to show how heavy 70 pounds is on your back," said Ojala.
"He had everything he took on his climb, he had his outfit, his backpack, he had a table full of climbing gear and some of the rocks he took from the peak of Mount Everest. He was someone who could talk to the kids about setting goals and provided a great message for the kids."
This week mark's the school's Spirit Week, which included various dress-up days. Monday was Tropical Tuesday with beach wear with students trying to hang onto the last remnants of summer.
Wednesday was Retro/Vintage Day, which featured the Vauxhall Academy of Baseball Jets' first games of the season against the Prairie Baseball Academy in Lethbridge.
Today marks Vauxhall High School's Spirit Day, where the always-looked-forward to Blue Cup flag football game is played, pitting Grade 12 students versus school staff and community members.
"Kids come out to cheer wearing their school colours. It will be the undefeated teachers taking on the Grade 12s. The Grade 12s could probably beat the teachers this year, we are getting older, we will always have that excuse," said Ojala with a chuckle.
"The kids actually look forward to it. Every year they talk about it. Even the Grade 7s say, 'well when we ge tot Grade 12, we are going to win'."
Friday is Dynamic Duo Day, to celebrate superheros in dress up.
Last year, Vauxhall High School focused on its advisory program, connecting students and staff together. With the high school redesign being implemented by the provincial government, VHS will be doing that once again.
"We will be building relationships and focusing on the academics with goal setting and pushes for personal interviews between advisory staff and students," said Ojala. "Other than that, it's pretty much business as usual."
That business includes a student enrollment that has been pretty consistent, apart from a slight decrease, a common plight facing smaller rural school.
"We are right on our numbers for what we enrolled. Maybe four students over, but that is still down from the year before. Some years we seem to lose a handful, with the population of small rural schools, they are not going up," said Ojala.
New staff at Vauxhall High School this year includes Nikki Ohlmann, who is filling in for maternity leave and teaching math.
There is also student teacher Jo-Anna Meurs, who is doing a practicum from the university of Lethbridge.
Beyond that, for students who are wanting to pursue something off the beaten path, VHS is always on the look out for volunteers who could add to a student's educational experience.
"We are excited to continue our path in the high school re-design and junior high advisory program. We encourage community involvement," said Ojala. "We have a lot of advisory program where we offer things wanting to get the community involved. We've had the community in before offering classes to students in the past like sushi making, zumba, etc., with a lot of things we've done in our flex box. You want to give students an opportunity to experience other interests that could lead them down a possible path they would like to pursue in the future."