MAP gets a school yard update
Posted on September 29, 2016 by Vauxhall Advance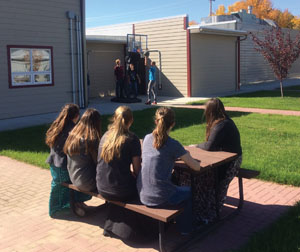 (Photo submitted) OUTDOOR SPACE: Students at Horizon MAP School in Vauxhall are able to enjoy some fresh air during their breaks in their school yard in the back of the school, which was given an overhaul over the summer.
By Nikki Jamieson
Vauxhall Advance
njamieson@tabertimes.com
Having graduated a lot of students in the past few years, Horizon MAP School had expected fewer students to attend this school year. However, the opposite turned out to be true.
"We had actually anticipated being down a little bit in the spring, it was looking like we had a few families move away," said Dan Vanden Dungen, principal of MAP. "We registered 15 unexpected enrolments. We knew that there were some coming from the elementary school, or from Hays or Enchant. But a lot of unexpected enrolments, which is great."
With about 12 new families at the school, this makes their enrolment numbers just slightly above last years at MAP.
There has been no staff turnovers this year, something which is "a bit of a change" for MAP, who has seen new teachers for the past several years.
Last week, the school went to the University of Lethbridge to use the climbing wall as their start-of-school field trip. On Oct. 25, the school will be having its annual Harvest Supper in Partnership with Vauxhall Elementary School's Mennonite Learning Program.
"That's quite a big event, it gets all our families together and gives us a chance to tell them a little bit of what's happening in school this year," said Vanden Dungen. "It's a chance for community building and broadening experiences for the kids."
MAP continues to add more direct instruction for their students. Back when MAP had one or two teachers, they did a lot of distance learning education.
They still do a lot of that, but the four teachers who work at MAP have found that a lot of the students benefit from direct instruction, and now with double the teachers, an assistant and a secretary, they can do so more easily.
"Many of our students have different circumstances, different attendance patterns, different responsibilities outside of school," said Vanden Dungen.
"But we're finding more and more students really benefit from having the direct instruction. So when they are able to be here, to have teacher directed lessons that they can participated in, and then complimenting that with more flexible resources.
"So we're trying to keep the flexibility that MAP has always had, but introduce more support."
The school has also had a facelift in the area behind the school. Over the summer, grass was planted, picnic tables were purchased and the previously blank space was turned into a recreational area.
"We're actually very excited about it," said Vanden Dungen. "It's sort of a recreational area, a little bit nicer area for students to hang out during a break time, eat their lunches out n the picnic tables or shoot some basketball hoops. It's a small space, but it's a lot nicer.
"We didn't have anything when we originally moved in three years ago, and it's starting to get there."