Many different activities at pumpkin festival
Posted on October 6, 2016 by Vauxhall Advance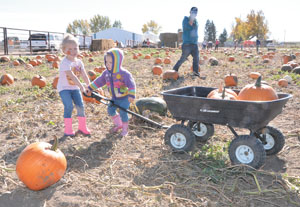 (File Photo) THE GREAT PUMPKIN: There will be lots of family fun promised at the upcoming Molnar Pumpkin Festival.
By Nikki Jamieson
Taber Times
njamieson@tabertimes.com
The pumpkin patch party is back.
The Molnar Pumpkin Festival will be entering its ninth year this Saturday as pumpkin lovers flock to the Molnar farm to celebrate all things autumn and orange.
"Finding their perfect pumpkin out in the pumpkin patch," said Jen Molnar, festival organizer, on why people come. "We did have a lot of rain, they still turned out really nice so there should be lots for people to choose from."
Activities at the celebration include returning favourites such as the popular pumpkin cannon, bouncy castle, pumpkin crafts, face painting, tractor-drawn hayrides and petting zoo.
New to the festival this year is horse-drawn hayrides. The rides will be operated by Doug Domolewski and Doug Kast, and will run from 11 a.m.-3 p.m., with a couple of rides each hour, so spots are limited.
"That's a life-long dream of mine, to have horse-drawn hayrides," said Jen. "It will be a shorter route, just because we want to make sure the horses are good."
Festival-goers will be able to pick their own pumpkins, with prices ranging from $2-15 depending on size. A variety of pumpkins were grown this year, everything from small sugar pumpkins to 50-pound orange pumpkins, but Jen predicts that the warty pumpkin will be the popular pumpkin to pick this year.
"The warty pumpkin seems to be a favourite of lots of people," said Jen. "Just for their unique look; it's something different. Because they're covered in warts, as opposed to the smooth skin of a normal pumpkin."
The Pumpkin Festival kicks off on Saturday, Oct. 8, from 11 a.m.-5 p.m. Admission is $5 a person, with children five and under getting in for free. Concessions will be available at the event, with the kids craft costing $5 and pumpkin fodder for the cannon costing $5 for two shots.
A portion of the proceeds goes to the groups helping out at the festival. The Molnar's Farm is located one mile east and one-and-a-half miles south of Barnwell, just off Highway 3 on the south side of the highway.